Tisja Damen's designs are truly beautiful and look like nothing else. Being handmade in their Amsterdam atelier, they are priced accordingly and for a long time I was admiring them from a distance watching the brand's Instagram account as inspiration. Black Friday with 25% discount offer shaked my determination to stay strong, and I decided to pamper myself with one of their designs priced not that badly for my wallet. With this in mind I chose ''Mystique'' a-symmetrical bra.  
Choice of panties in this style didn't tempt me so I went just for the bra. Usually I'd take one brief to complete the set even if I'm not exactly in love with its style, but prices for panties in Tisja Damen are quite high so I decided to settle for combination of embroidered bra and simple panties of black mesh from my rich collection.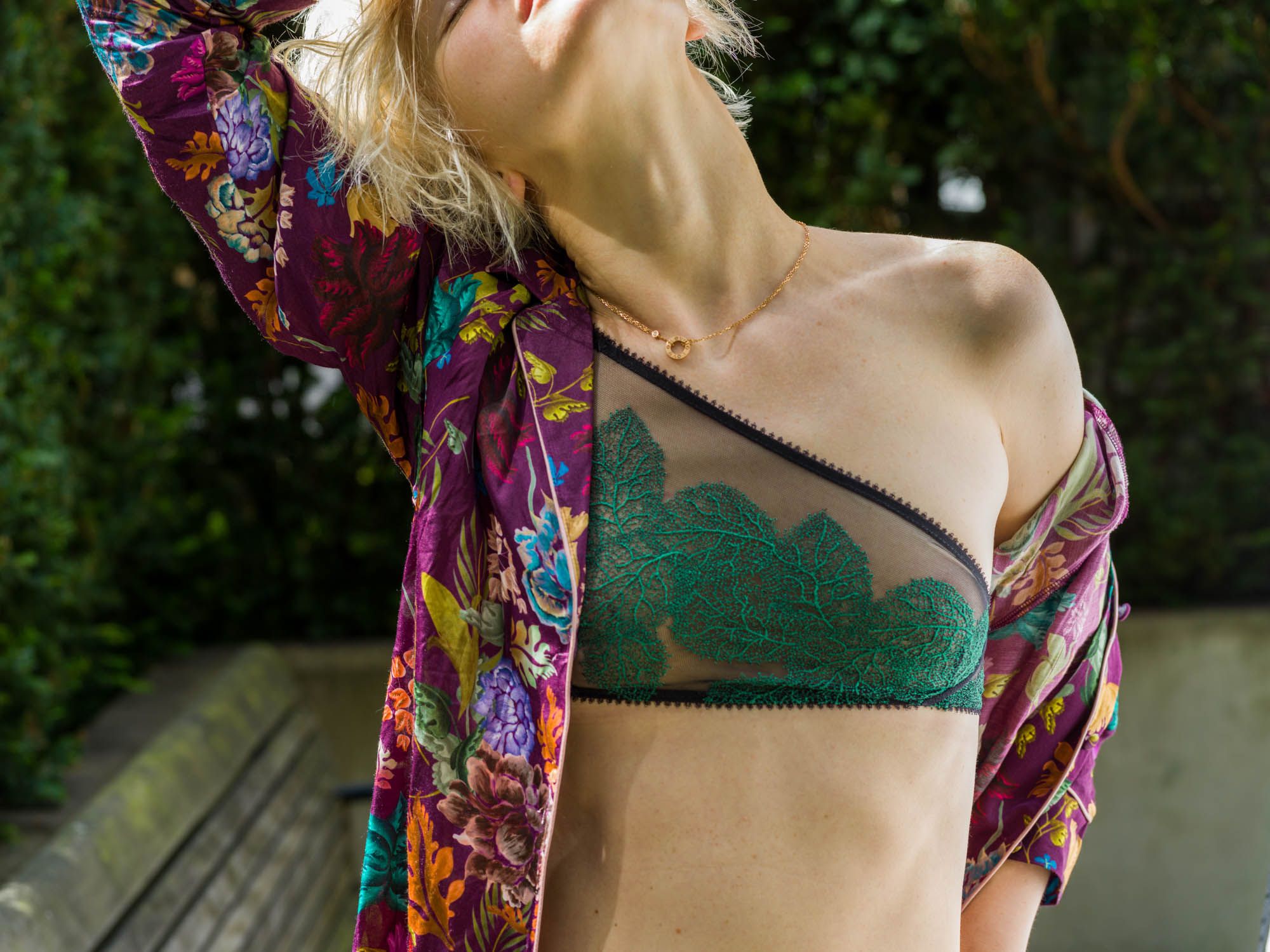 I didn't regret this decision. Mystique bra while being gorgeous, isn't the one which I reach for when in need of feeling myself a seductress. This is a garment perfect for moments of love to myself, when I'm not worried of my bra matching my panties perfectly and how I look in general (which is ironic as, let's put aside false modesty, it definitely looks great on me).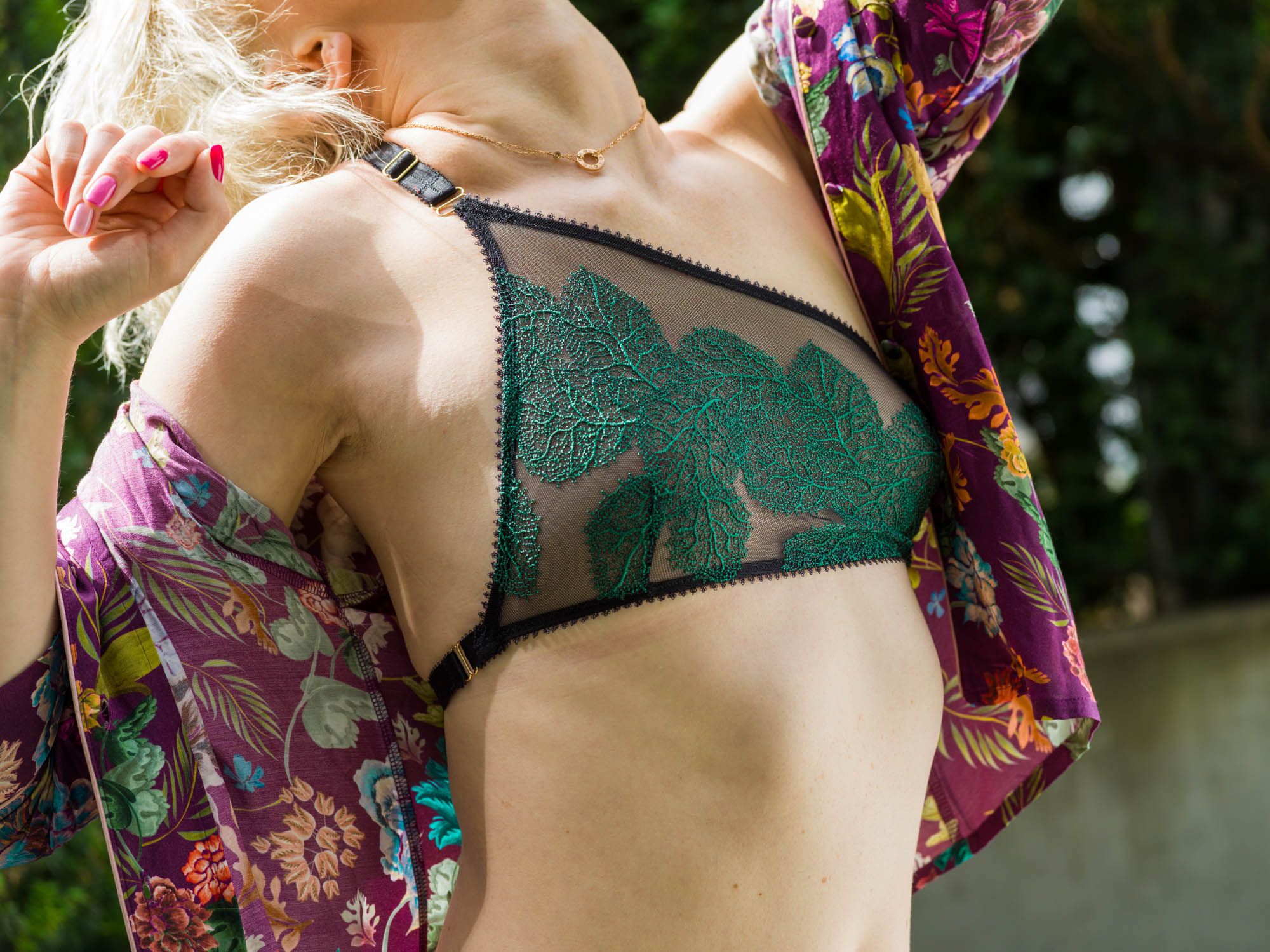 Precious delicate embroidery in combination with wide comfy elastics looking almost sporty and ensuring weightless fit remind me of necessity to love myself with no regards to the outside world and to treat myself with care and attention. And yes, to spoil myself with pricey things from time to time.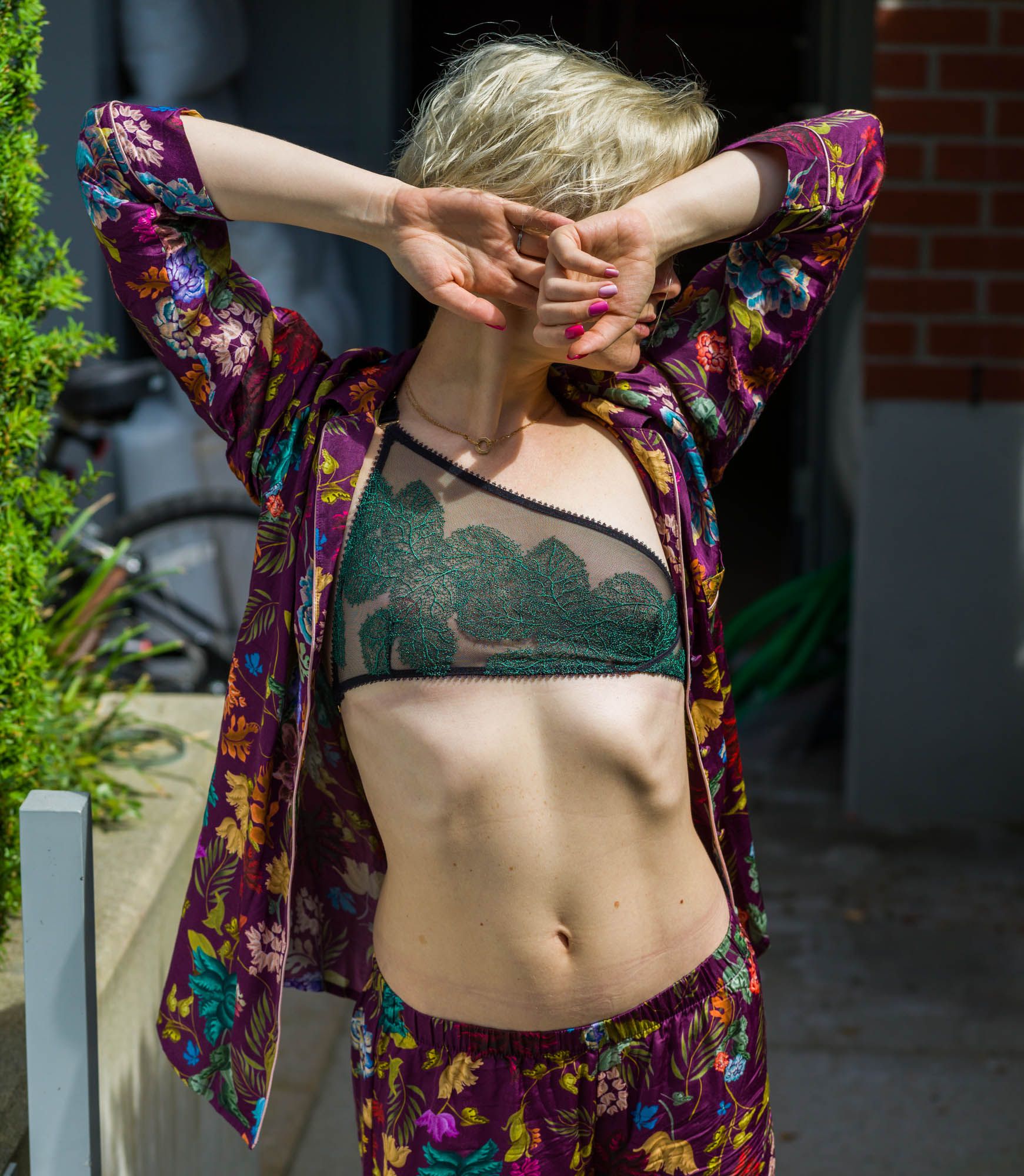 Overall impression
The bra's overall score is unbelievably high. It offers unconventional design and materials, great quality, comfort, and the brand's customer support is surprisingly good (yeah, most of lingerie brands lack this last piece particularly).
Look, Touch, and Comfort speak for themselves.
Quality - quality of fabric, fit and seams.
Support - how quick and helpful the support team was.
Experience - the overall experience of communicating with the brand (how user-friendly the website is, how easy it was to order, how quick and seamless shipping was, if applicable - how painless the return procedures were.)
Devil in details: purchase review.
The bra is made of one layer of sheer black mesh with a delicate green embroidery from Switzerland. Wide elastics look almost contrasting to this subtlety, the contrast is softened with small loops decorating their edges and golden-coloured trims. Based on photos from the website, I believe the bra may look more or less open depending on the size, but my small sized bust is modestly covered with the embroidery.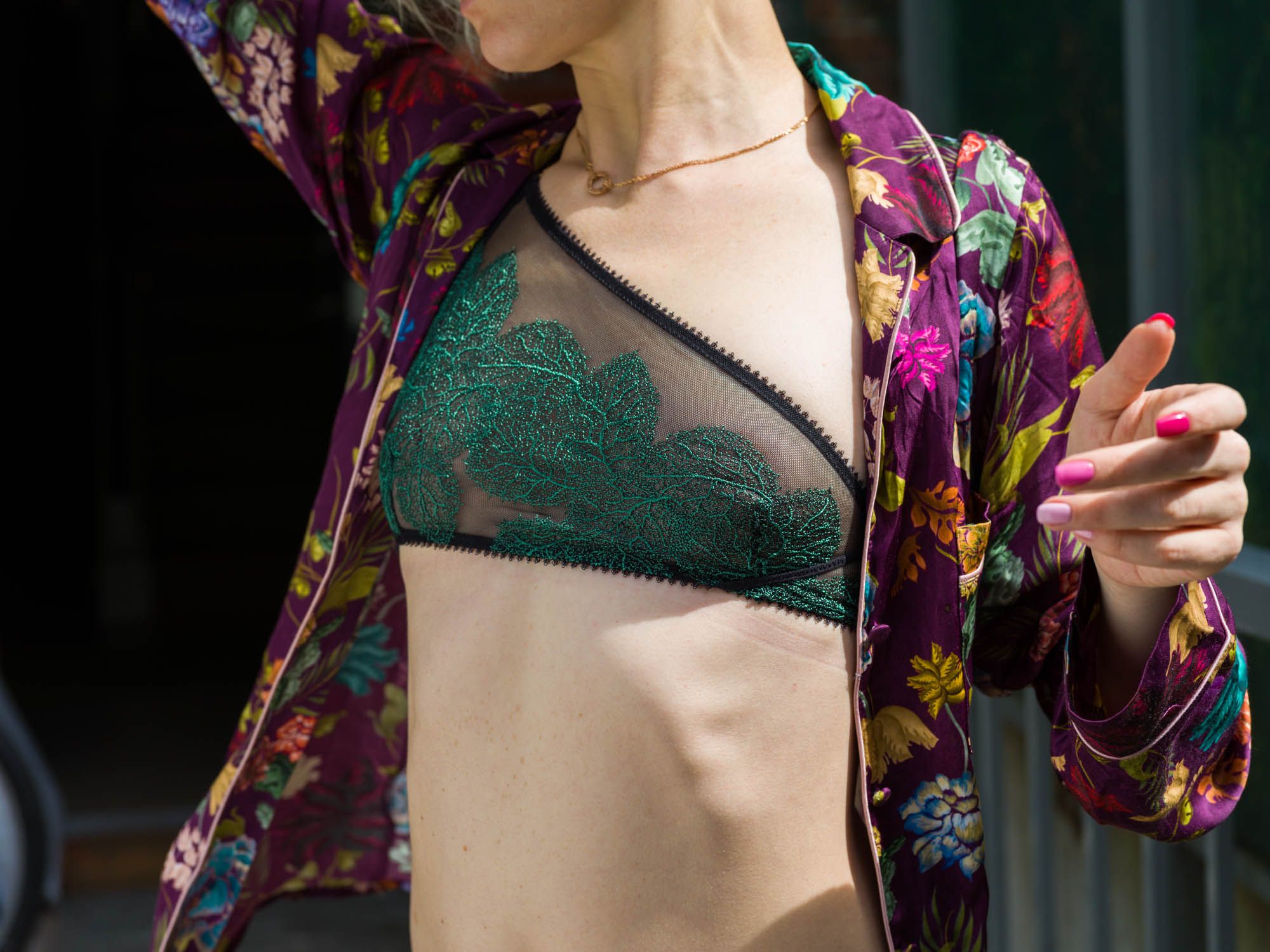 The fit is achieved with thin shaping straps providing a natural push. Edges of straps and elastics aren't finished but they don't seem to unravel significantly so I hope it's not going to be an issue. I don't think that it's an oversight either as the garment looks thought through very carefully. My favourite detail is the label sewn by two edges into the elastic from the inner side and sized exactly that way to make sure that it never shows from outside (yes, I had my share of disappointments with labels).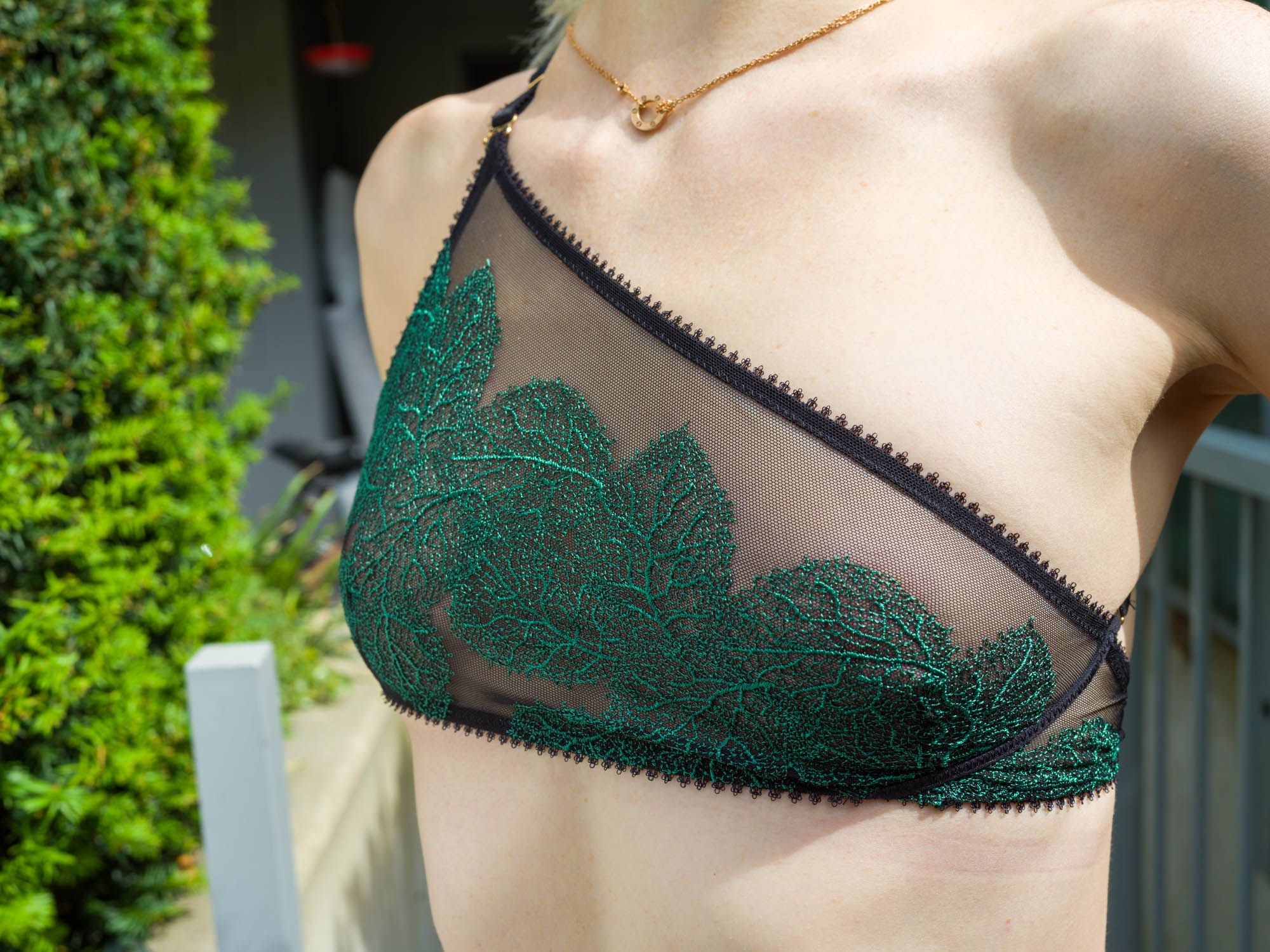 Order notes: fitting, customer support, shipping
And at last some technical details. Tisja Damen size guide offers simple S-M-L-XL options, and my 75A bra size simply transfers to Small in this table.
Website has an online support chat, they answer questions quickly and provide all the necessary info (they even reminded me additionally about their promo offer which was definitely nice of them).
Mystique bra before the discount was priced at €123.14 (€149 with VAT if ordering inside EU, for customers outside of EU they offer tax free shopping which is very convenient when ordering to North America). Shipping costs to the US and Canada confused me though as they start at €20 for the next day delivery and oddly go higher for slower options with economy shipping priced as €31.48.

Their support team confirmed me that the cheapest option was also the quickest. They were interested to try a new transport company though so they offered me to become a part of the test with a shipping fee of €15, and I agreed.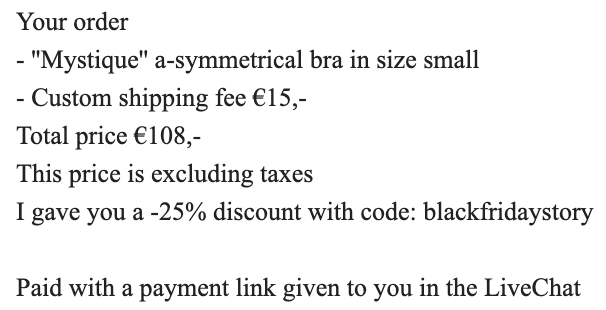 Tisja Damen sews their pieces by order so it takes some time from the moment of purchase till the lingerie is shipped. Black Fridays promo and Christmas obviously increased their load and turnaround time, I got notice of my bra being shipped only in 24 days.
Being slammed with all this workload, they probably forgot about our transport company test and sent it by FedEx Priority. Unfortunately it didn't make me lucky, FedEx somehow didn't process properly my package and all the packages picked up together with mine, and all these orders were lost. The support team contacted me with apologies and offered either return my money or to make a new bra for me with additional 10% off. I opted for the second option but warned them that in this case I won't be able to receive it soon as I was leaving for a prolonged trip. They withheld my bra for me until my return so I don't know how long it took them this time to make it, new shipping took 2 business days and this time was successful.
Somehow in all these communications both sides forgot about additional 10% discount offer. But I'll probably revisit this topic when I bring myself to a new purchase from Tisja Damen which will obviously happen sooner or later, I have been ogling Gaia set in red for some time now, just have to make peace with its price somehow.
The bra in Small fits me perfectly and is very comfy. I only have to warn you to adjust the shoulder strap tightly enough otherwise you can find your right breast popped out of the bra completely by the end of the day.
Photo: Vlad Sofronov