Living in Vancouver, I don't often have a chance to try lingerie on before the purchase. I can count on one hand offline lingerie stores here, and these ones don't offer styles which I like so I mostly order everything online meditating over sizing guides and terrorizing support teams. In rare cases when I buy something offline, I take full advantage and try half of the assortment on (I'd probably try everything but kinda scared to be kicked out by shop assistants in case if nothing works for me in the end). Long story short, here comes a new column Fitting Room, and the first review of Mary Young who kindly brought a pop-up store to Vancouver this weekend. Sorry for the quality of images in advance, this column is what cellphone camera and in-store light can give you.
I started with a contrast bra and lux high waist brief in Mustard. I'd say color and fit are pretty honest on the website, and their bamboo rayon fabric is a heaven for those who love underwear being soft to the touch. Here I wear size XS and it feels pretty comfy. My waist measurement is 67 cm which is more than XS usually supposes so for high waist I'd may go a size up but it's a question of personal preferences on how it looks, elastics are quite soft in this style so I didn't feel discomfort (well, at least during this one minute while had the brief on, it surely can differ when wearing for the whole day).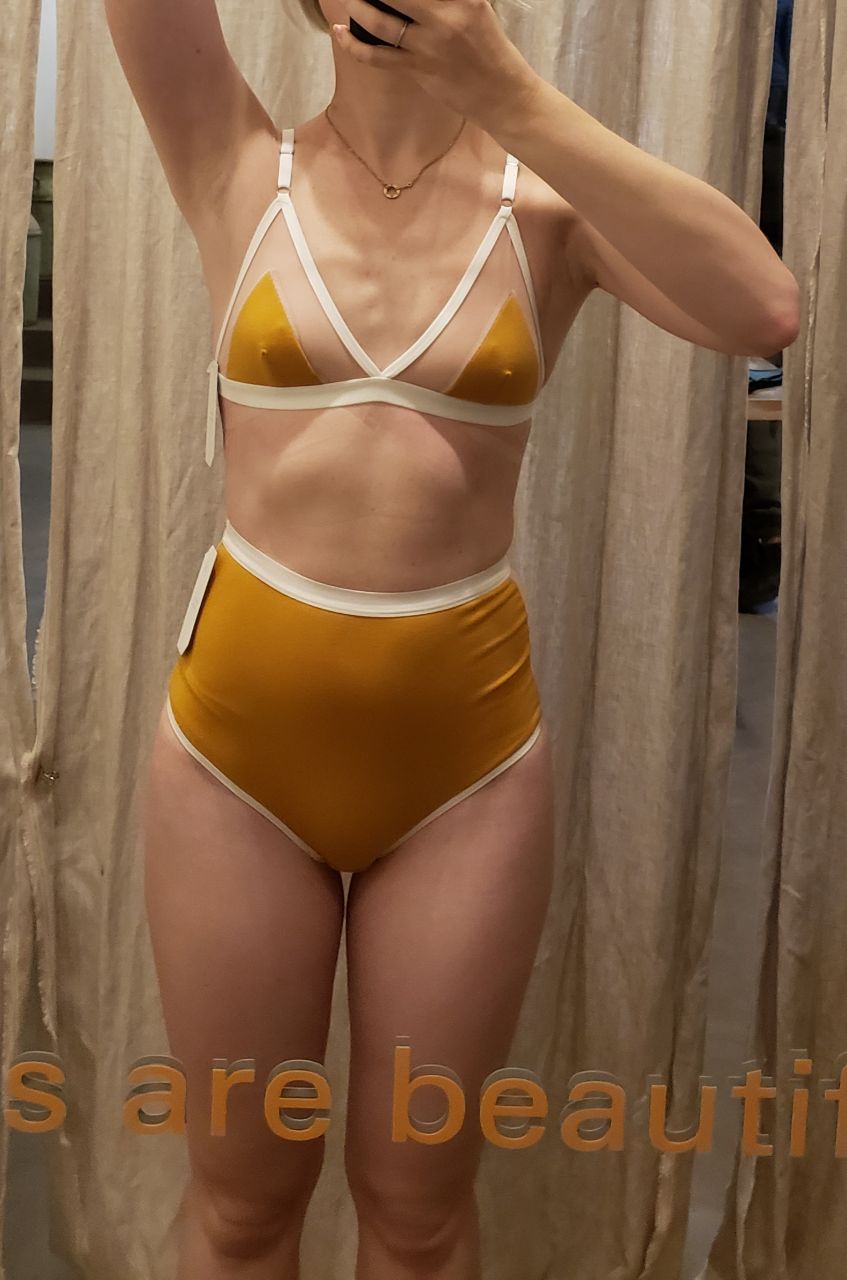 I also tried Tory brief as a low-rise option to match the bra. XS fits me with no comments, I'd say it fits me even better than I'd expect from the website images.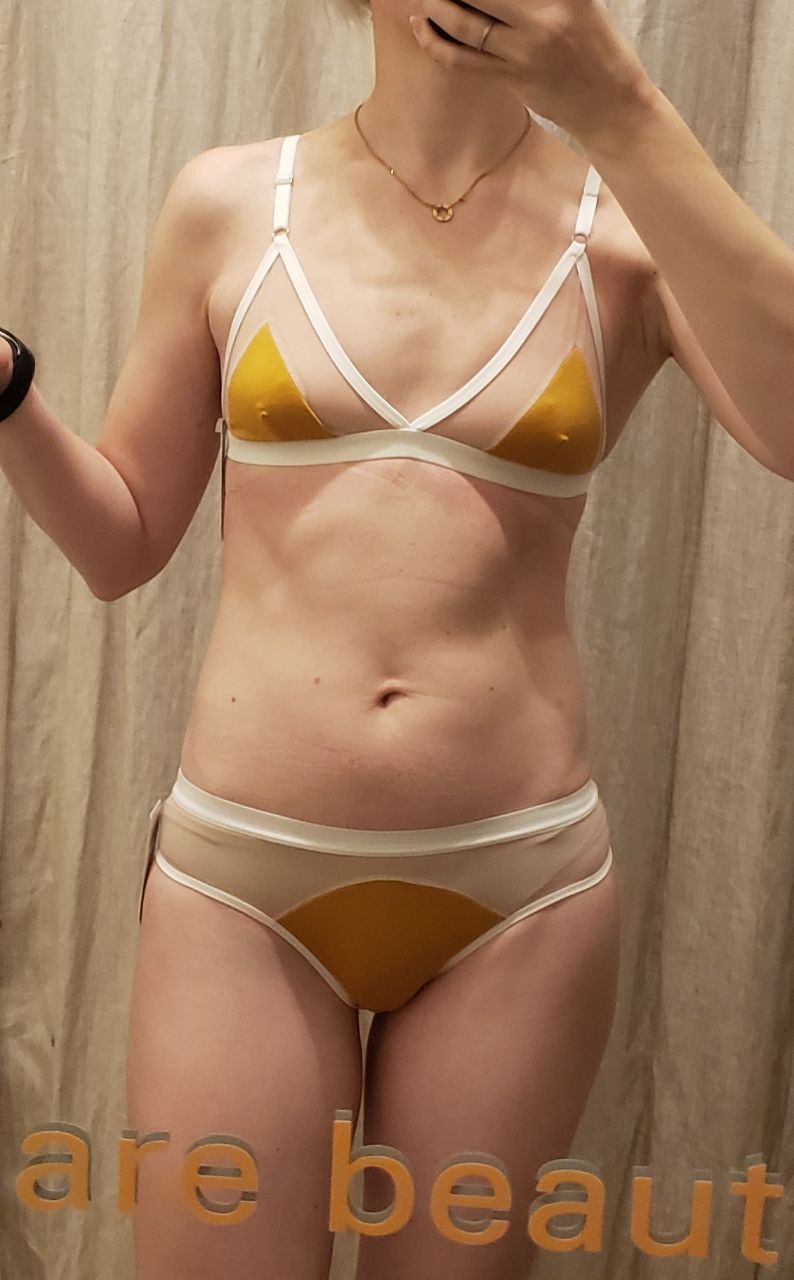 In general I liked this style and if it were a year ago, I'd probably go for it. Now, when I have a pretty rich underwear wardrobe, I need to be more picky if I don't want to rent a separate apartment for my clothes, so I rejected this one for a likeness of Moon Intimates mesh garments which I own already.
---
Next I tried Carter bra and high bikini in speckled white. XS fits me ok and feels comfy but I'd probably prefer bikini in S as elastics cut into the skin a bit. I have a thing for ribbed natural fabrics and I still don't own any underwear in it so it could be a go but I passed on it as I'd like bikini to provide a bit less coverage in the front, it's only a matter of personal taste though.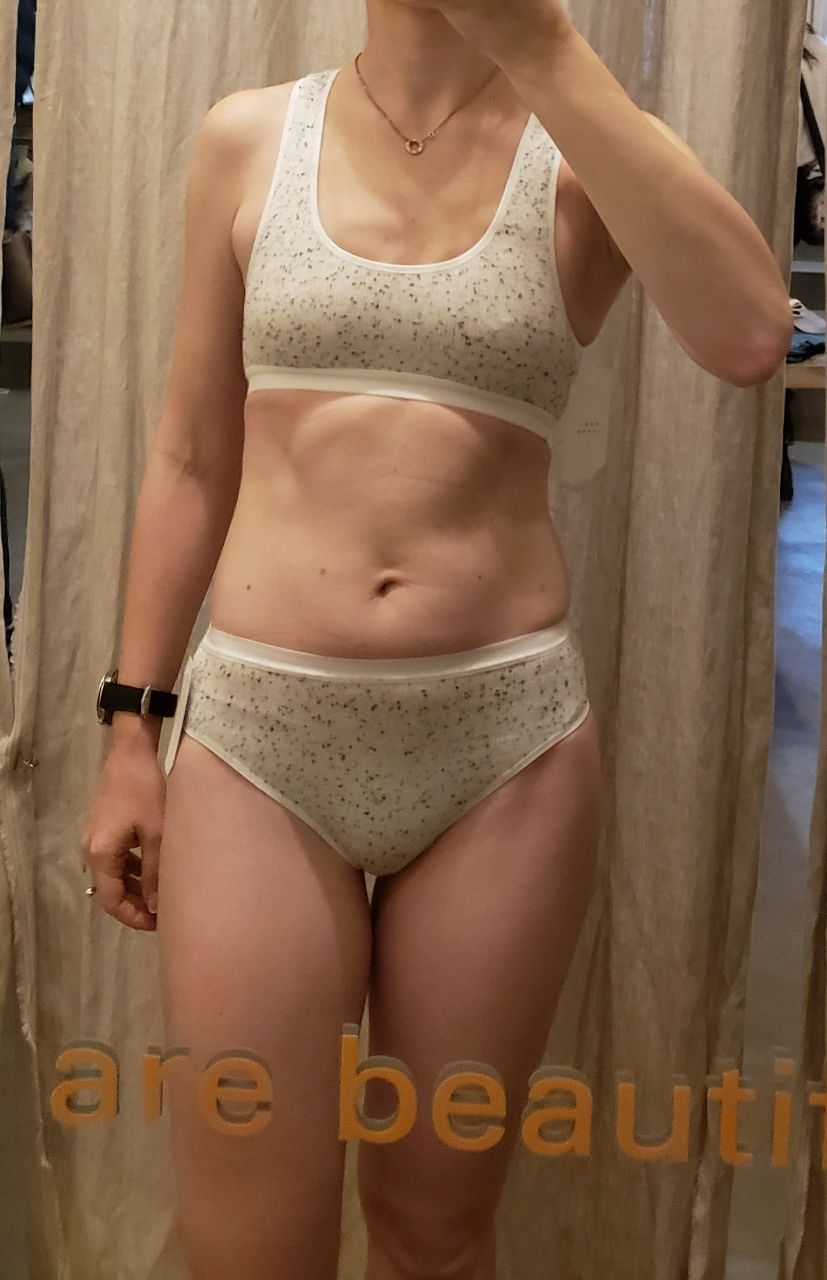 ---
Backless thong bodysuit with long sleeves is a dream. I love its mustard colour, fit, touch, combination of covered arms and open back - pretty much everything about it. If I'm super picky, I'd say that its back looked just a tad long for me like it was meant for a taller girl but it's really nitpicking, I wouldn't worry unless you're shorter than me (I'm 167 cm / 5'6''). I passed on it though as it doesn't have buttons in its crotch and I learned a hard way that wearing this kind of clothes isn't fun in the bathroom.
Mary Young doesn't have it on the website for some reason so here is the closest style for comparison - sleeveless Backless thong bodysuit in Rose. I wear XS on the photos.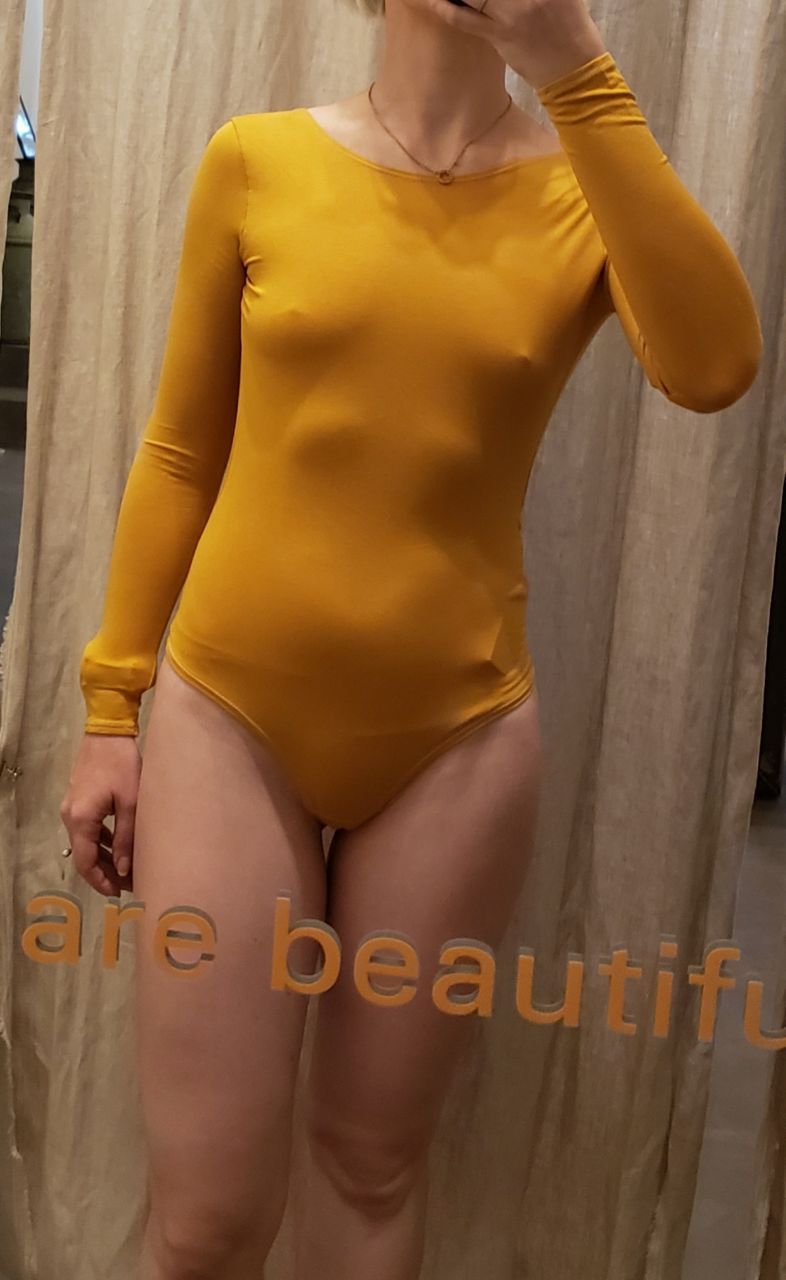 ---
Rylee bodysuit in XS was surprisingly small so I tried S instead which fits me great. Straps feel a bit too wide in the back, like they're gonna fall any minute (they don't though). The bodysuit looks more transparent than on the website but they have some mix-up with colours there - the Rylee style is available in black, white and pink, photos for white and pink are the same though (there was only this option and black at the pop-up store). The bodysuit also doesn't have buttons in the crotch, and it says it all for me.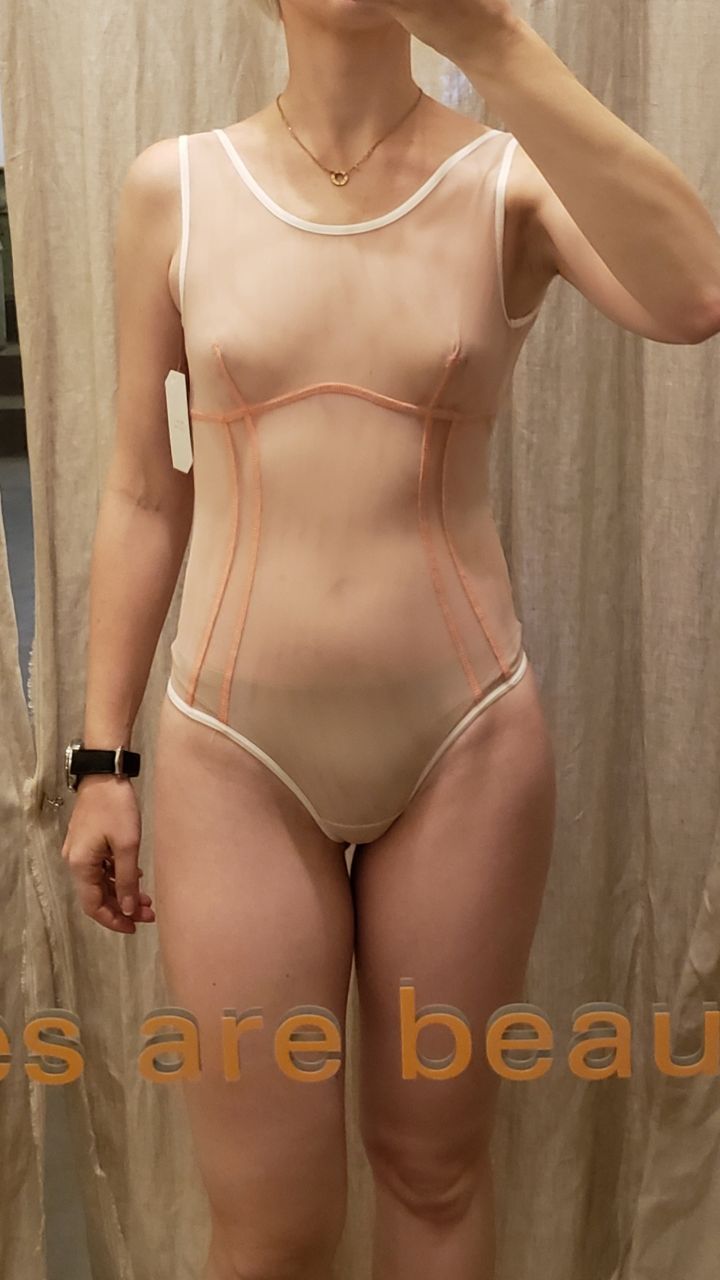 ---
At this point I realized that the review is getting too lengthy so I'm going to summarize my impression about Mary Young underwear now and review Mary Young's loungewear separately. I really like their fabrics and colours. Their size chart translates into XS for bras for my measurements and puts me somewhere on the border between XS and S for bottoms which proved to be right in the fitting room. Bodysuits are a bit more tricky though - they probably go as clothes in the size chart, and my size there should be XS which was right for rayon but too small for mesh.
My measurements for reference:
Bust - 80 cm / 32"
Band - 73 cm / 29"
Waist - 67 cm / 26"
Hips - 92 cm / 35"
Height - 167 cm / 5'6"