Coming back from Burning Man always takes some time to adjust for a default world. Food and drinks aren't free anymore, ads are everywhere, and no more walking around in nothing but your favourite lingerie pieces (or without them either if that's your favourite outfit for today). Burning Man has a strict principle of decommodification which means environment "unmediated by commercial sponsorships, transactions, or advertising" and it applies to all the imagery from the event so no reviews illustrated with photos from Burning Man are going to be posted here. This decision took some time to come to as strictly speaking this is not a commercial blog and half of my outfits at the event consisted mostly of underwear... but this is it. I will definitely recreate my costumes for the blog photo shoots though so beware.
Here you would probably wait for some embellished cage bra, BDSM-like leather accessories and ruffled panties... and they will appear but not right now. I'll start this series with my best friend on playa, the underwear garment which I wore the most often - Merino Ninja Suit by Airblaster. Yes, glitter and all that jazz are important but not half as important as having your precious butt warm in the night. This year was pretty warm but you never know how cold it's going to be each year and sometimes it can go as low as 0°C so the first thing I pack is always my base layer.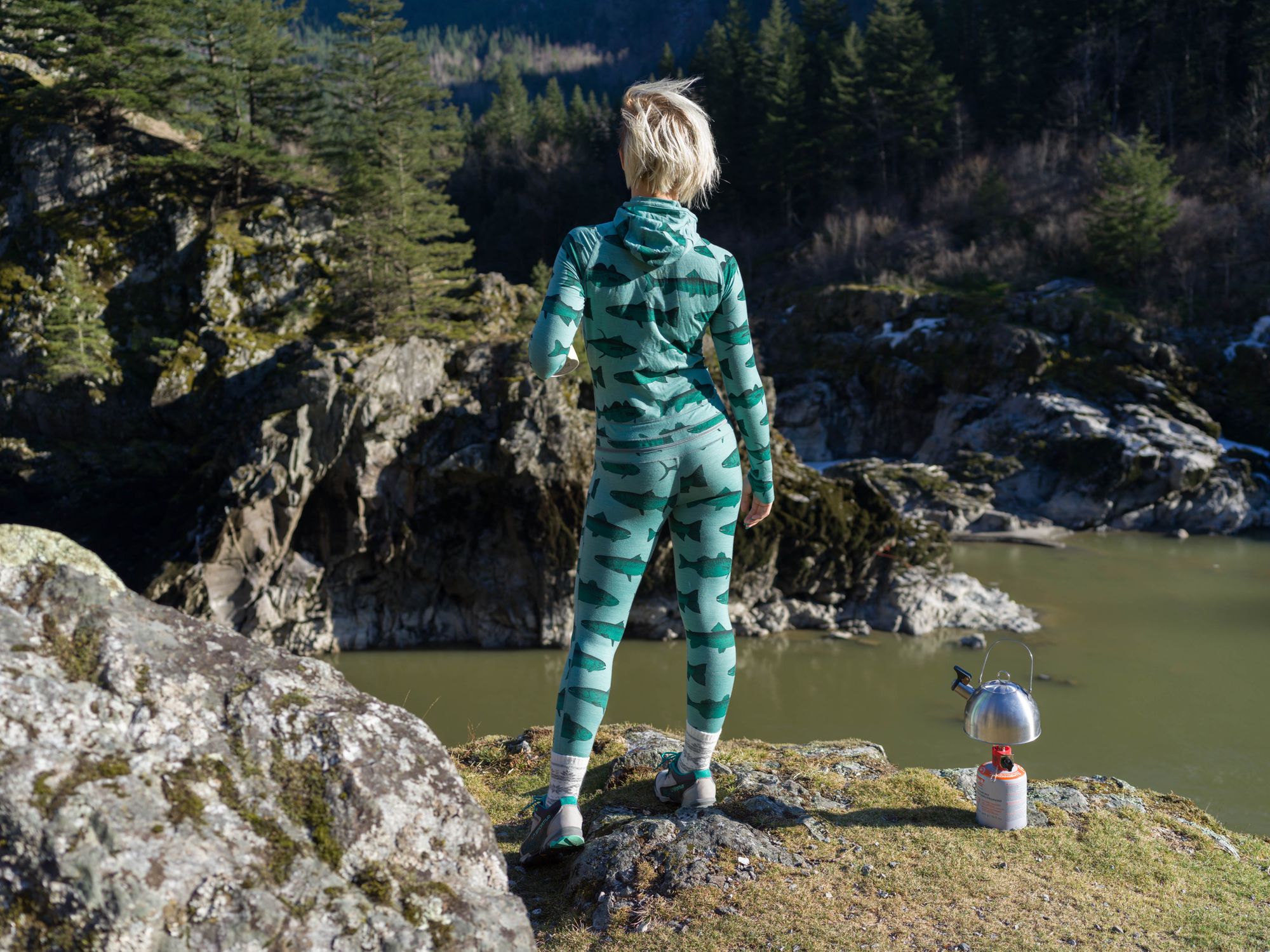 I learned my lesson and always go with the warmest option I manage to find, and merino wool proved to be the one since the last year. The only point of disappointment here always laid in this stripe between my top and bottoms - I move a lot and it irritates me to remember to always pull my top as low as possible to make sure that no skin gets exposed (because if you do forget, go try amend it under your costume and a massive faux fur coat on top of it). Yes, there is a choice of onesies for this. No, they are usually not an option because... well, just imagine how you go to a porta potty (again, you have a costume AND a fur coat on top of your onesie). So when I found this ninja suit with a zipper all around its hip area, I didn't take a moment to think. Spoiler alert: it worked great.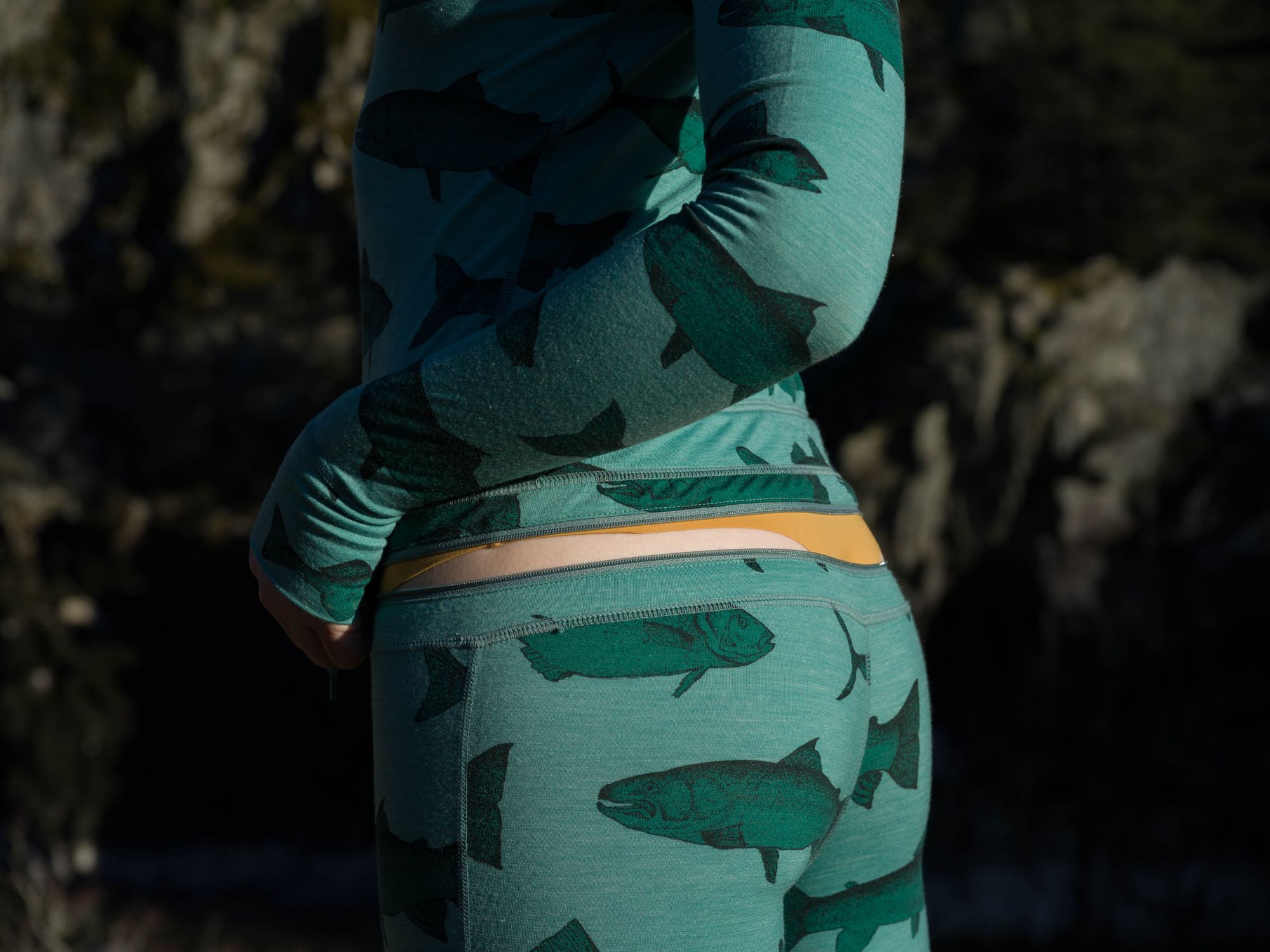 What I'd wish as improvement for this design is a better choice of fun colours. The only one more or less funny-looking which I found was this Mint Fish style. It's not bad but would be cool to have it brighter and fishes merrier. They have some nice patterns for their Classic Ninja Suits but again, I need the warmest option. Anyway, I like the suit's look and feel in general - I'm such a cute weirdo in this fish ninja style which is totally fine by me.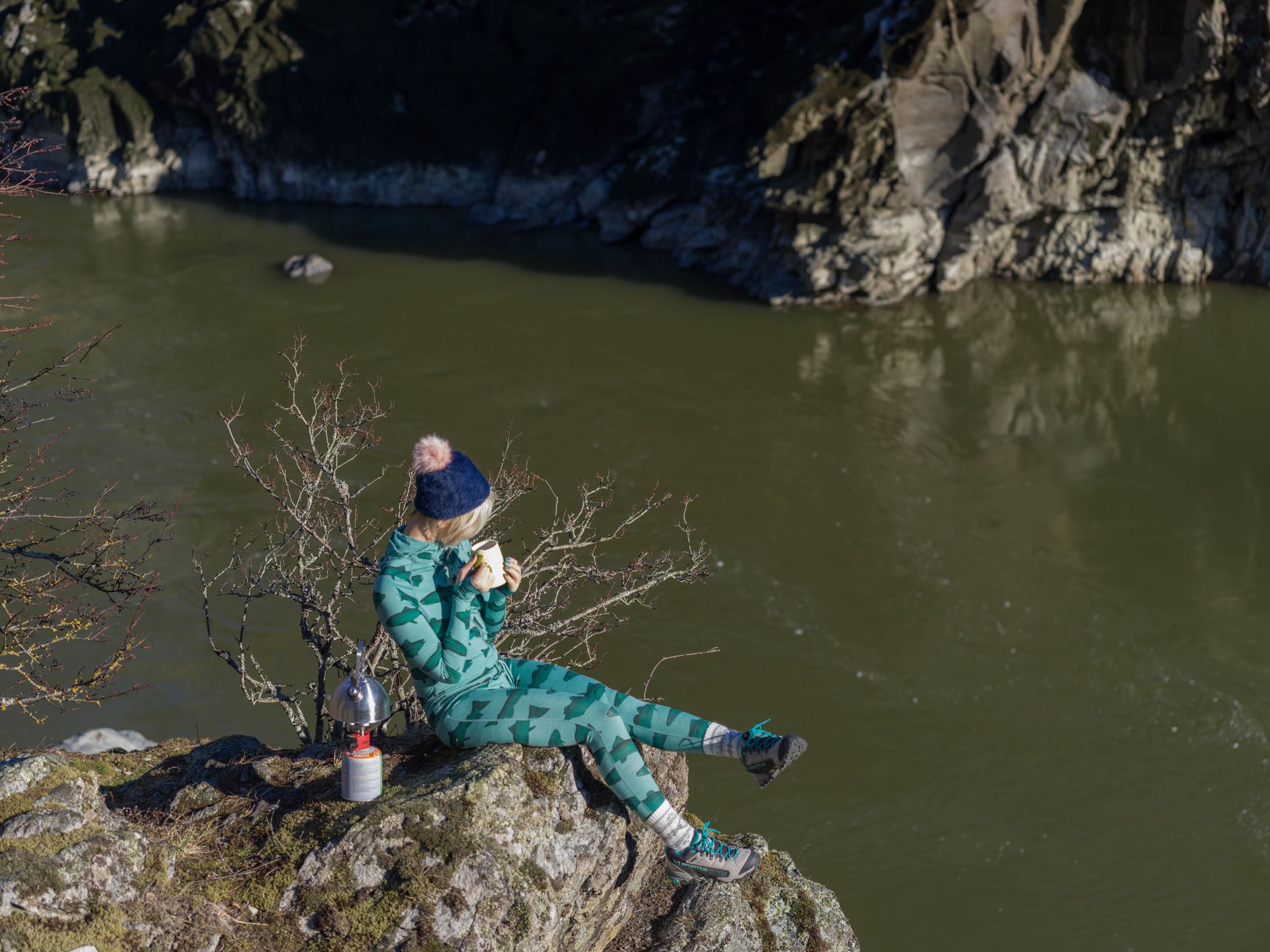 Overall impression
I didn't have a chance to communicate with the brand representatives as I bought it at the offline stockist's shop but I really love my onesie, it's nice, comfy and has a slight vibe of cute peculiarity which I like sometimes when I'm in a mood for it. And it's warm. And yes, no more those awkward moments being half naked in public toilets which we don't want to talk about.
Look, Touch, and Comfort speak for themselves.
Quality - quality of fabric, fit and seams.
Support - how quick and helpful the support team was.
Experience - the overall experience of communicating with the brand (how user-friendly the website is, how easy it was to order, how quick and seamless shipping was, if applicable - how painless the return procedures were.)
Devil in details: purchase review.
The suit is made of Merino fabric (according to the official website, it's their exclusive blend of Tencel and ultrafine Merino fibers cutely named Woolverino). Looks like guys are pretty proud of it, if anything, they boast about it being strong and stretchy and drying fast. Well, it makes sense as the suit is made for snowboarders. I do a bit of snowboarding myself so I'll let you know how it behaves if I unpack my board this winter, and for now I can say that it's thin, soft and warm at the same time and not itchy at all which is a super good sign for woollen fabrics. As I said already, I'd be happy to see more fun colours but at the moment my fish style is the only one patterned and all other merino options are solid.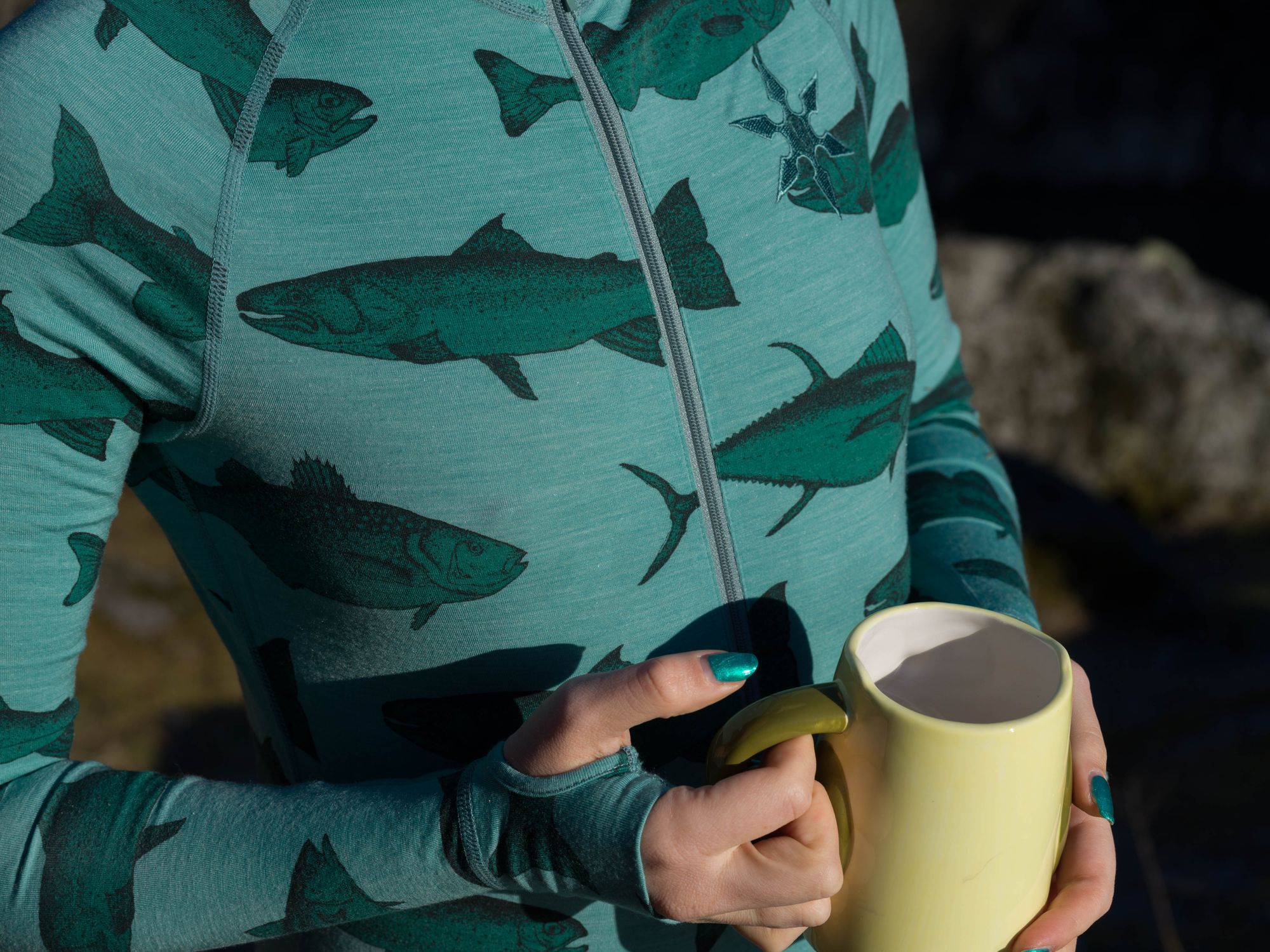 What I really love about the piece is a number of well-thought-out tiny details. It caught my attention with its 350° zipper which may be opened from either side. It's complimented with a waistband drawcord for a better fit.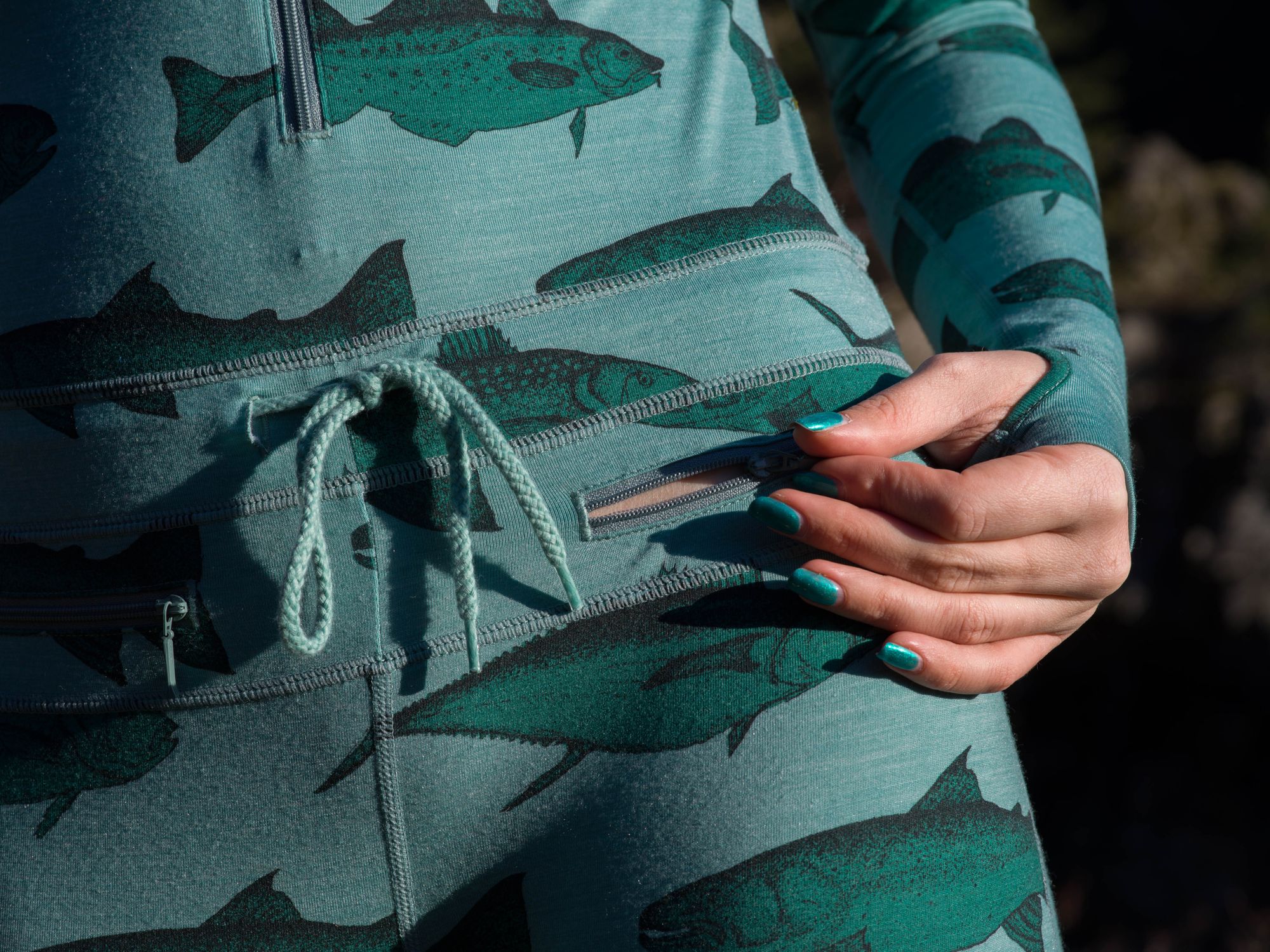 Long sleeves with thumb loops at cuffs are my favourite. While onesie style prevents the lower back from being exposed to the weather, monkey palms do the same for wrists.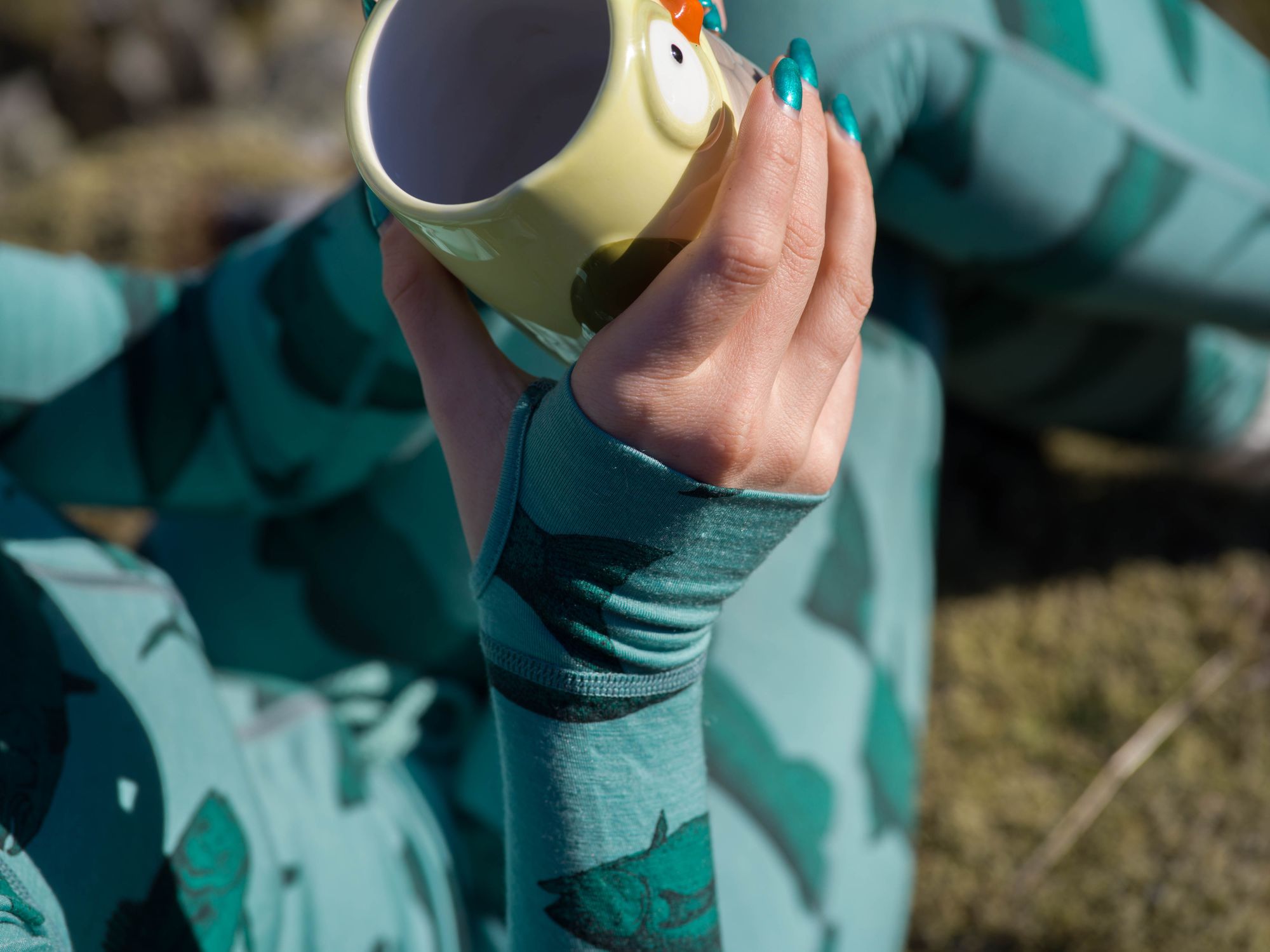 The hood fits very well. I'm not good at sewing but the website says it's because of 7-panel design. What I can value all by myself is a piece of fabric protecting the chin when zipping up (got skin caught a couple of times before, it wasn't fun). Girls with longer hair may also appreciate a special portal for a pony tail. I wonder though why they don't have it for a men's version of the suit.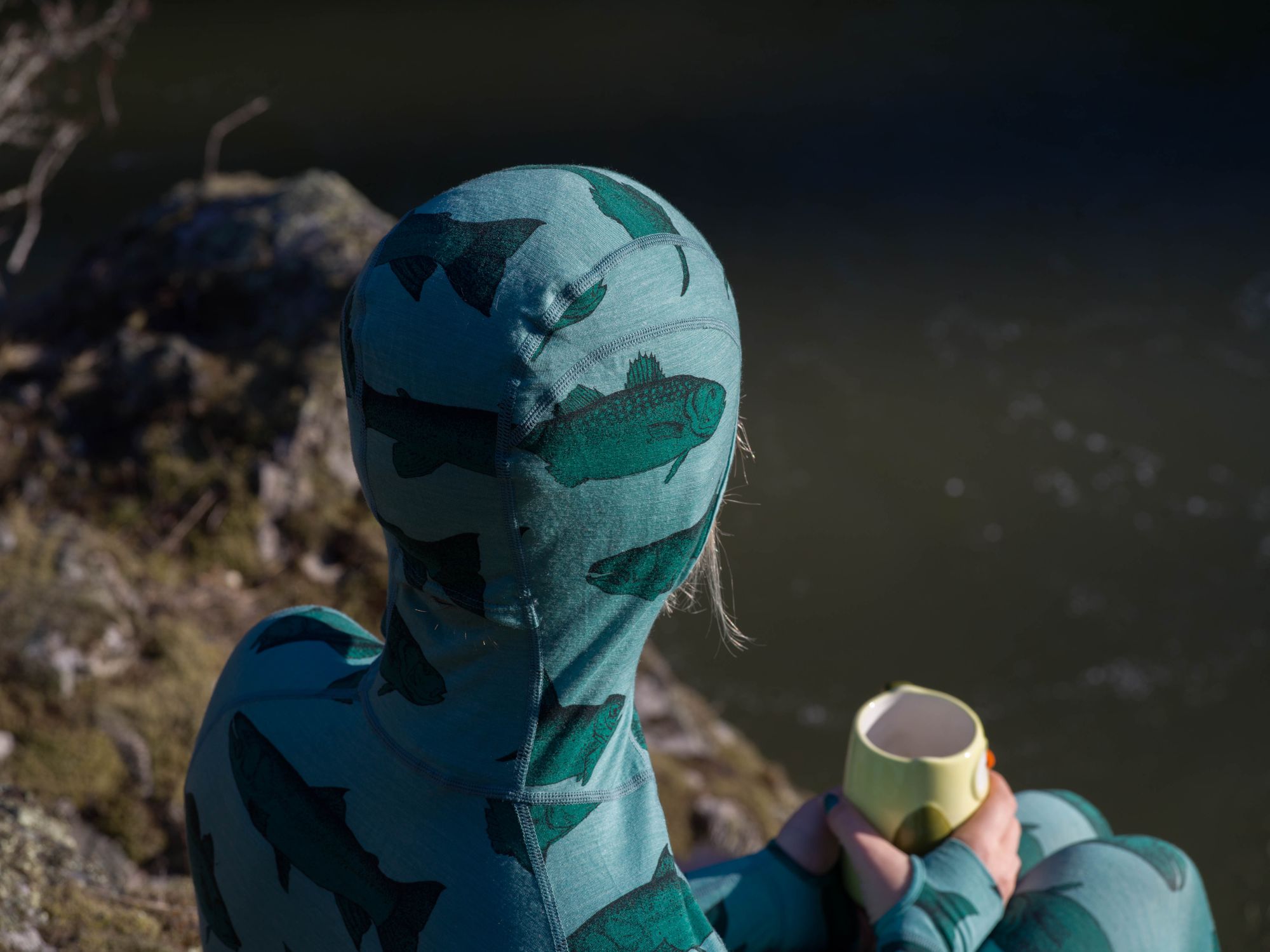 Order notes: fitting, customer support, shipping
My piece is in size XS. I tried both a size up and a size down before the purchase, and S was a bit too bulky while XXS didn't look much different from XS but had a bit shorter legs so I was worried that they might go up too much when moving.
The size chart is quite confusing if you order online. Weight starts with 70 with no indication of units but as the manufacturer is in the USA, I suppose it's pounds. I usually wear XS or 0 as US sizes, my weight according the chart translates to S or M though. Height puts me between M and L (that's new, never considered myself tall), waist and bust - between XS and S, and inseam - between XXS and XS. Currently the website offers merino suits in sizes starting with XS only.

My measurements at the moment of purchase:                                                       US size - 0                                                                                                                         Weight - 119 lb                                                                                                                 Height - 5'6''                                                                                                                     Waist - 26''                                                                                                                       Bust - 32''                                                                                                                           Inseam - 28''                                                                                                                    
With such a range in sizing I'd personally prefer to try the suit offline before the purchase, and they are offered in quite a number of sports stores. My XS fits me well, and even though the height and weight would suggest a bigger size, it's not tight and actually even has some spare space. So I'm glad after all that I bought it offline even though I obviously don't have any comments on support and shipping thanks to that.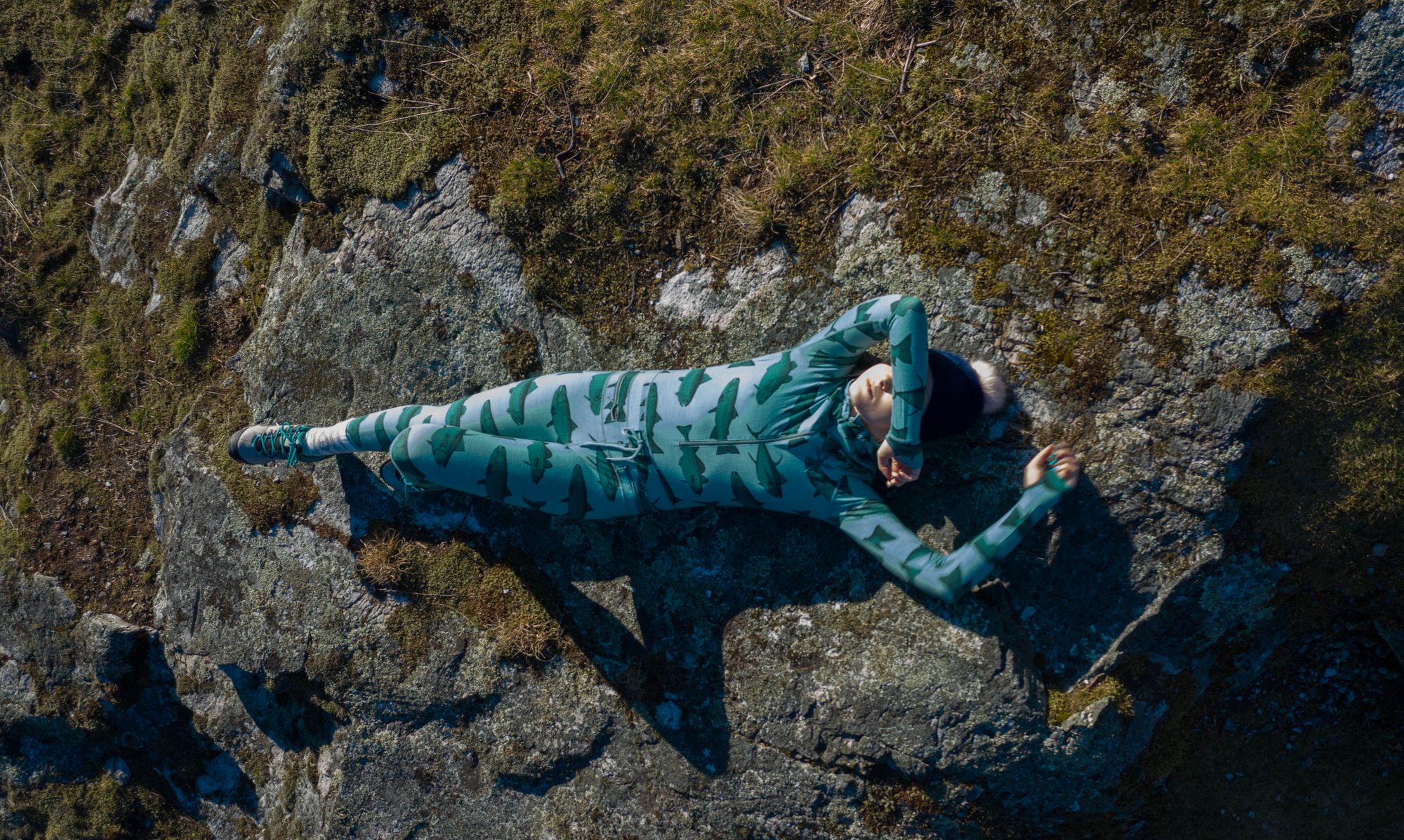 Photo: Vlad Sofronov