Email from PS-Ling caught my attention instantly. I've never heard about t-front underwear before so I was definitely intrigued. The first thing that comes to mind is erotic wear and the next level of "barely there" type of lingerie (well, maybe just to my twisted mind). Nonetheless, it appears this is not about eroticism at all.
Disclaimer: Lingerie for the review was provided by PS-Ling brand. All thoughts and opinions are my own.
T-front styles unveiled themselves as lingerie for... sport, dance and yoga. Generally, every kind of activity where you need all the possible freedom of movement your lingerie can provide you. PS-Ling started with manufacturing dance underwear for ballet and then expanded into daily wear.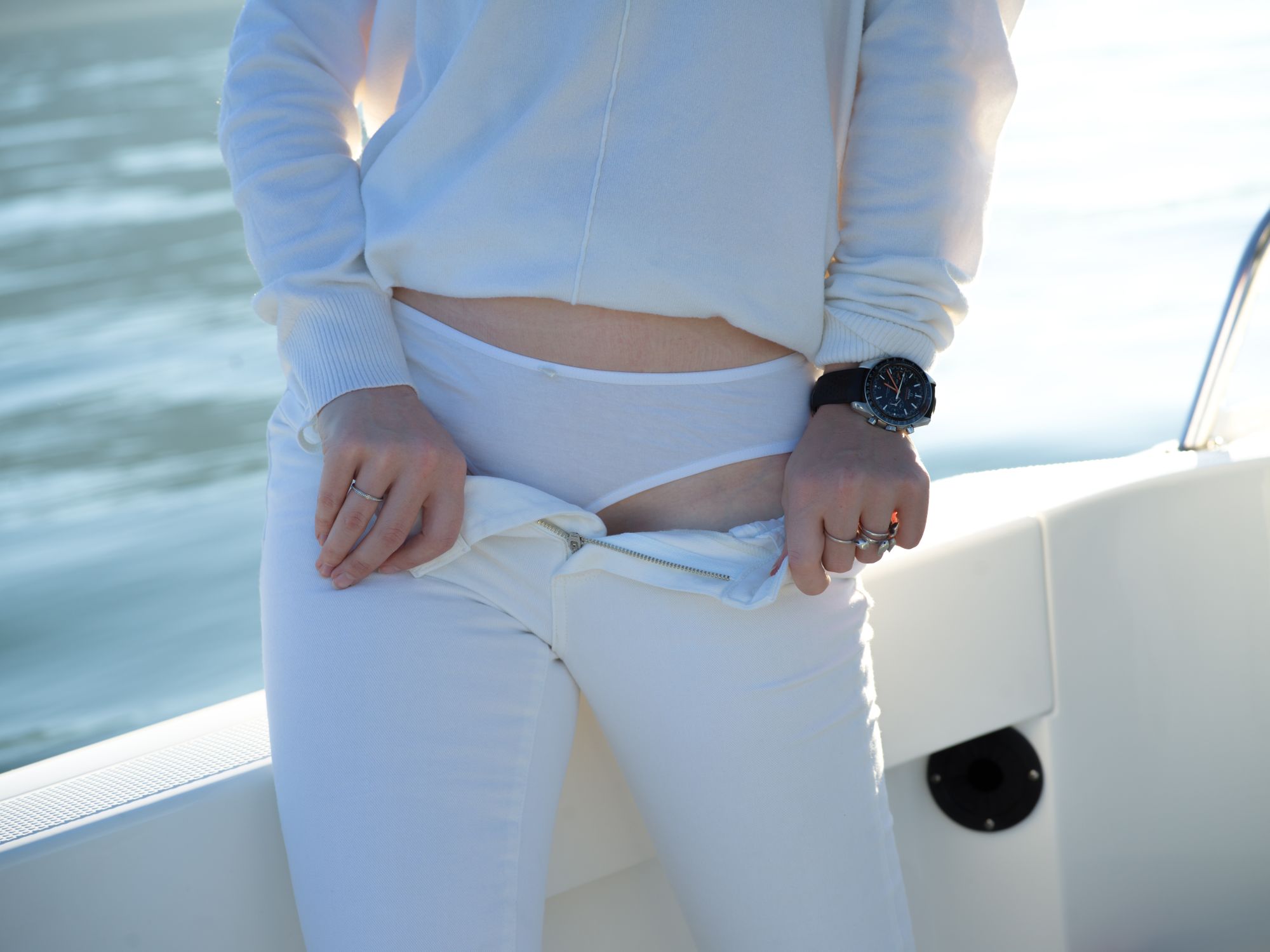 I've got two pieces of underwear to see what it's all about for myself: a cotton low-rise t-front thong and a lacy t-front g-string. "Wow, that's like a camel-toe on steroids," my husband said raising his brows. "Ugh, you don't like it?" I asked. "Why? It's not a bad thing, it's kinda erotic." So, even though it's supposed to be more of a sports wear, at least one male considers it sexy as indicated by my neither objective nor representative sample :)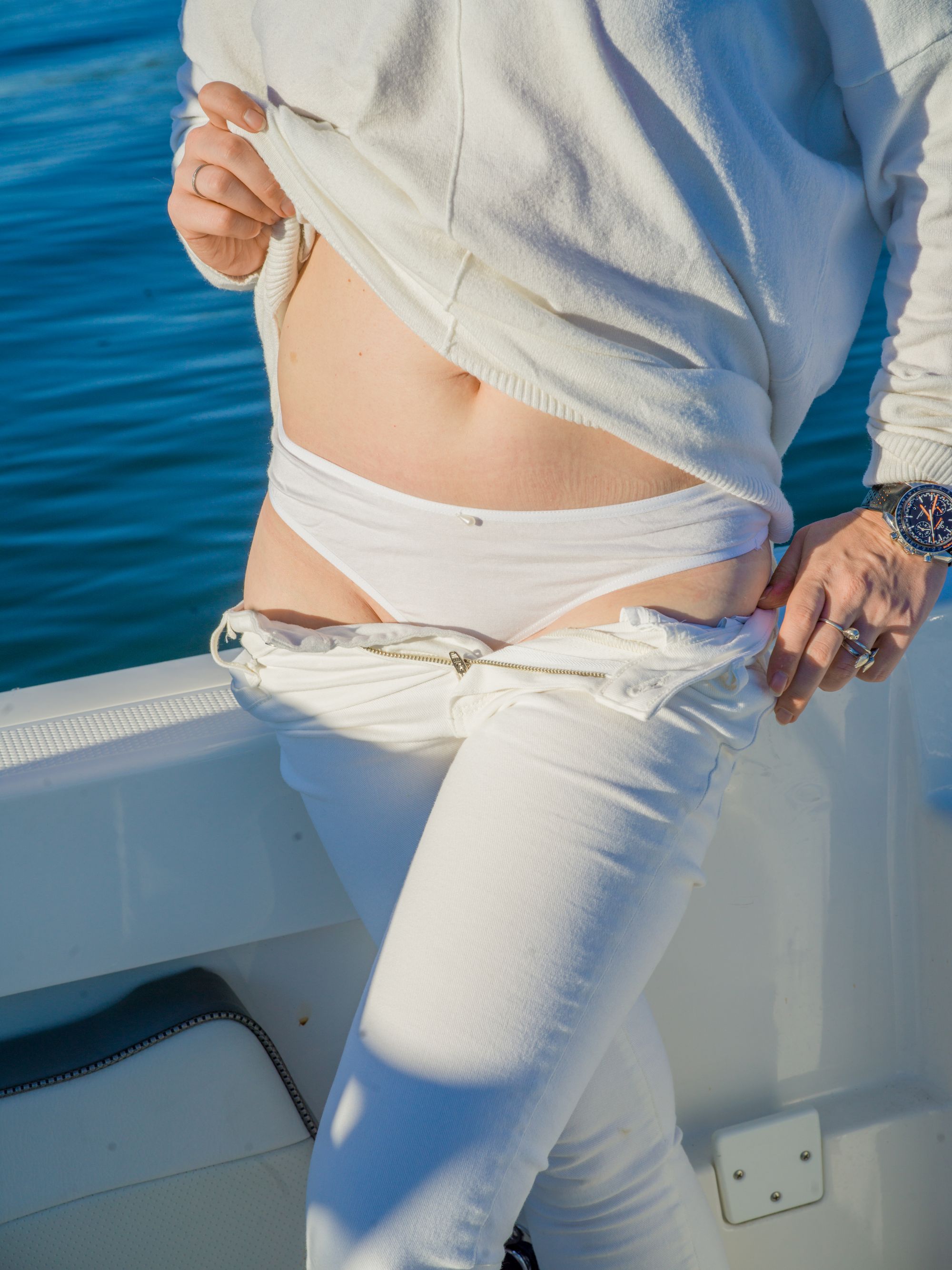 T-front cut assumes a very minimalistic coverage in the front, fabric doesn't cover any labia, and a string which we're used to as a back part of underwear continues to the front. This way, the garment is supposed to provide minimal protection to the gentle parts while allowing for free active movement and avoiding friction, irritation, and restriction of blood circulation. It may be also a good fit for ones with intimate piercing.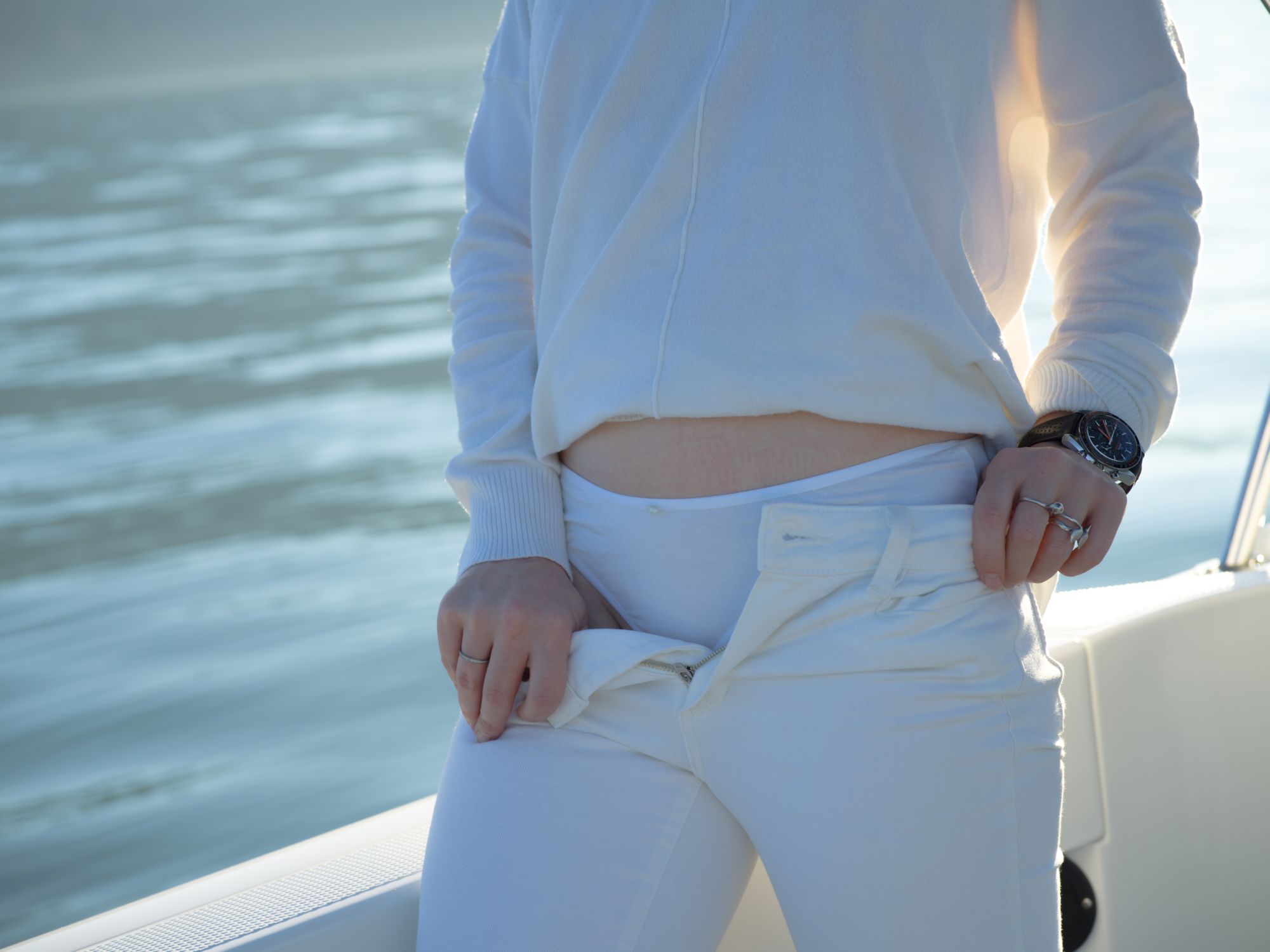 I surprisingly liked the feeling of this open design. I'm not much of a sports person so I can't say a lot about how it behaves during intense workouts but I spent most of the day boating when doing this photoshoot, and it was pretty comfy. I personally prefer to have a cotton gusset for hygienic reasons, so I wouldn't wear these for a long day (especially, the lacy ones which are made of synthetic material.) I also find that I start to feel them after 6-7 hours of wearing (no any irritation or any fit issues, I just experience heightened awareness of what I'm wearing) but this may be just individual thing. I would totally wear such a t-front garment for a date, not for the purpose of showing it off but just because it creates kind of carefree summery mood which I love.
Overall impression
Unconventional panties for sports or days when one wants to feel free and light. T-front design may be not for everyone or for limited wearing only for some but an affordable price allows to try something new to see for yourself.
Look, Touch, and Comfort speak for themselves.
Quality - quality of fabric, fit and seams.
Support - how quick and helpful the support team was.
Experience - the overall experience of communicating with the brand (how user-friendly the website is, how easy it was to order, how quick and seamless shipping was, if applicable - how painless the return procedures were.)
Devil in details: lingerie review.
I chose a simple low-rise thong for the review. I didn't find the fabric composition on the website but it feels like stretchy cotton. Seams are duplicated with elastics from both inside and outside. Both materials are very nice to the touch. Small plastic drop decorates the center of the top edge. Ends of elastics aren't finished super neatly but I wouldn't expect more at this price range (current price is Kč250 which equals to about $10.)
The brand sent me additionally another style: lacy g-string. It's also very cute. The cut is made of 4 pieces of stretchy lace sewn together and connected on the bottom with an elastic string. Same elastic goes along the upper edge, the front center is decorated with the tiny bow this time. I'm very picky when it comes to lace but this is a quite pretty classic pattern. Even seams are finished quite neatly here. My only concern is that the string feels synthetic, and I personally prefer natural fabric in my most private area.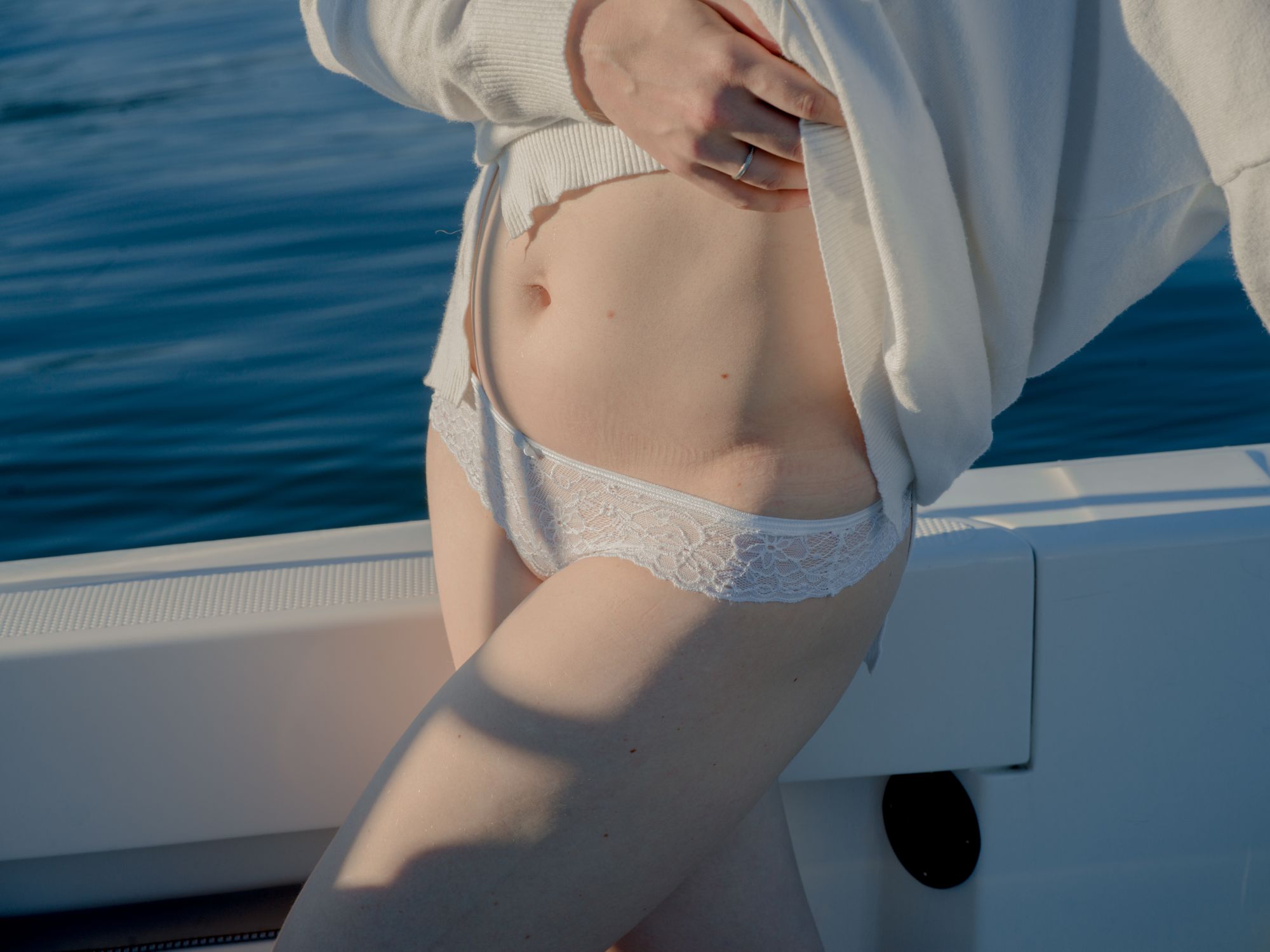 Order notes: fitting, customer support, shipping
My measurements fell between the sizes S and M according to the sizing chart.
My measurements for reference:
Waist - 67 cm / 26"
Hips - 92 cm / 36" (94 cm / 37'' at the time of the photoshoot)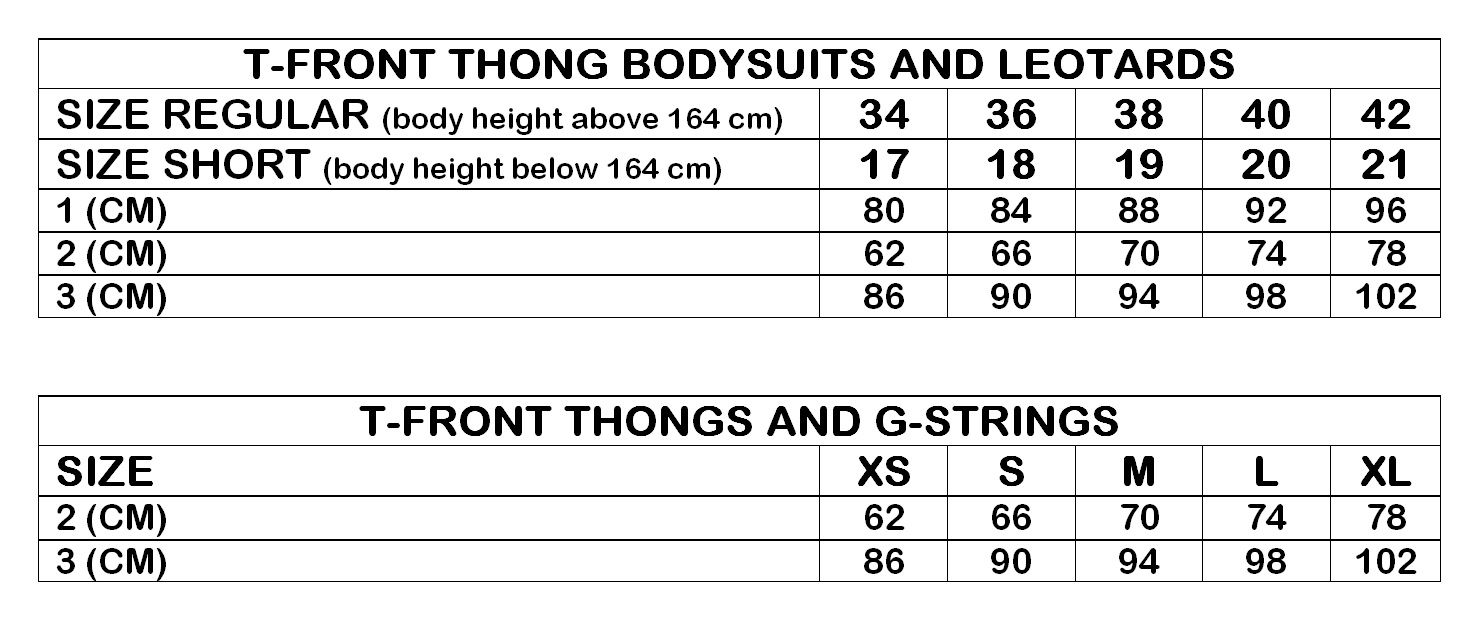 I was advised to go for the smaller size as fabric is very stretchy which I did. My hips actually got an extra inch by the moment of photoshoot so they'd be M in their sizing but the S fit is still very comfy. Lacy piece may look a bit tight on the photo but it's mostly due to me putting them on too low (sorry, no mirrors on the boat.)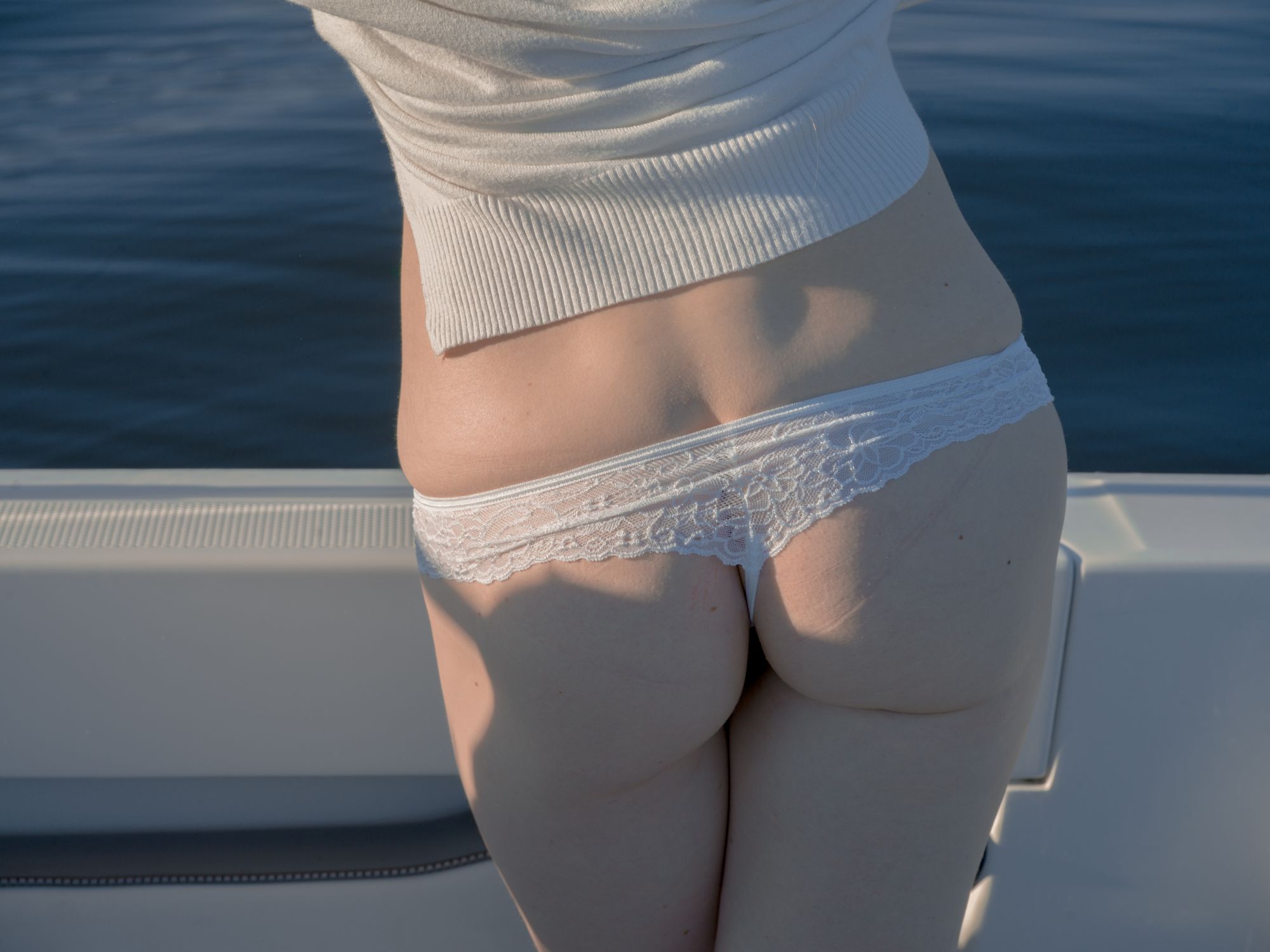 I've got my pieces from the company representative so I can't say much about the support. Normally, I wouldn't say anything about general experience either but in this case it was happening right in the middle of the pandemic frenzy. My deliveries even inside the continent were taking ages. This package was coming from Czech Republic to Canada, it did take a while through no fault of PS-Ling but the company representative was so nice and thoughtful with the updates that I still put 5/5 for the quality of communication with the brand.