SeaTales swimsuits make the choice pretty difficult with all their colourful patterns. In all the variety of overly sexy beachwear out there it's a feast for one's eyes to suddenly see these one-pieces with their not so revealing designs and childish prints. So after some thinking and tearing between Fishes, Stripey, and Pineapples designs (yep, even their names are funny) I decided to go with the first option.
I love how my Fishes swimsuit looks on me. Design is pretty simple but stylish, especially its almost straight neckline. Hidden cups are more subtle than standard ones, and one-pieces with no cups at all look sporty, while these built-in ones make the silhouette very feminine (I usually don't like padding, but these cups are designed more like a top with no hard parts and feel very comfy). Lower edges cut into butt cheeks a bit but nothing too bad.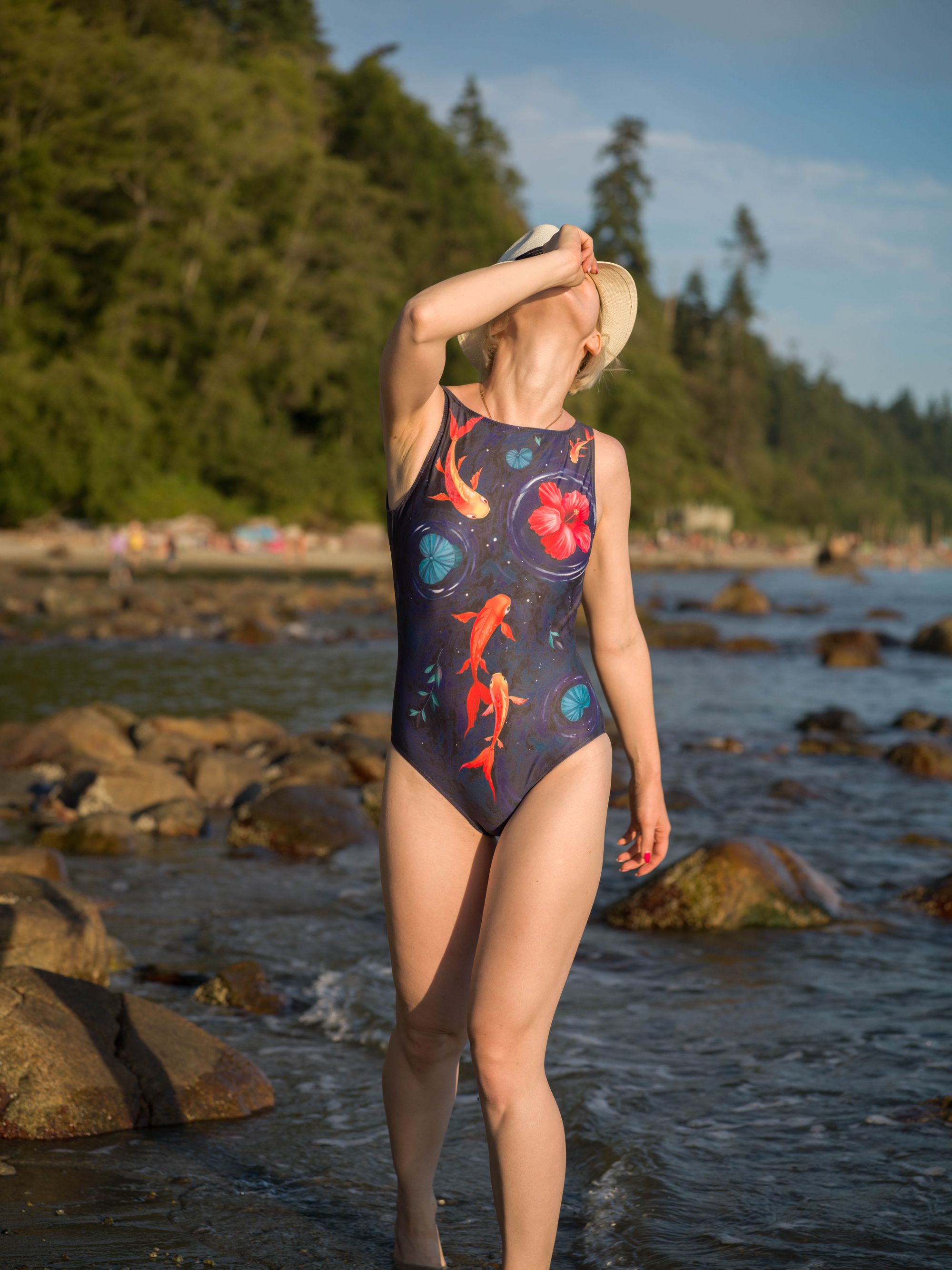 At the moment of my order SeaTales was offering only one style for swimsuits with different patterns, it's a pretty modest one-piece with cups hidden inside. Now they also have a new option with a cleavage, low-cut back and no cups. Discounts usually don't go higher than 10-20% but pricing is quite reasonable even as it is with all the styles at $95 or $106 depending on the print (original prices are in Russian roubles).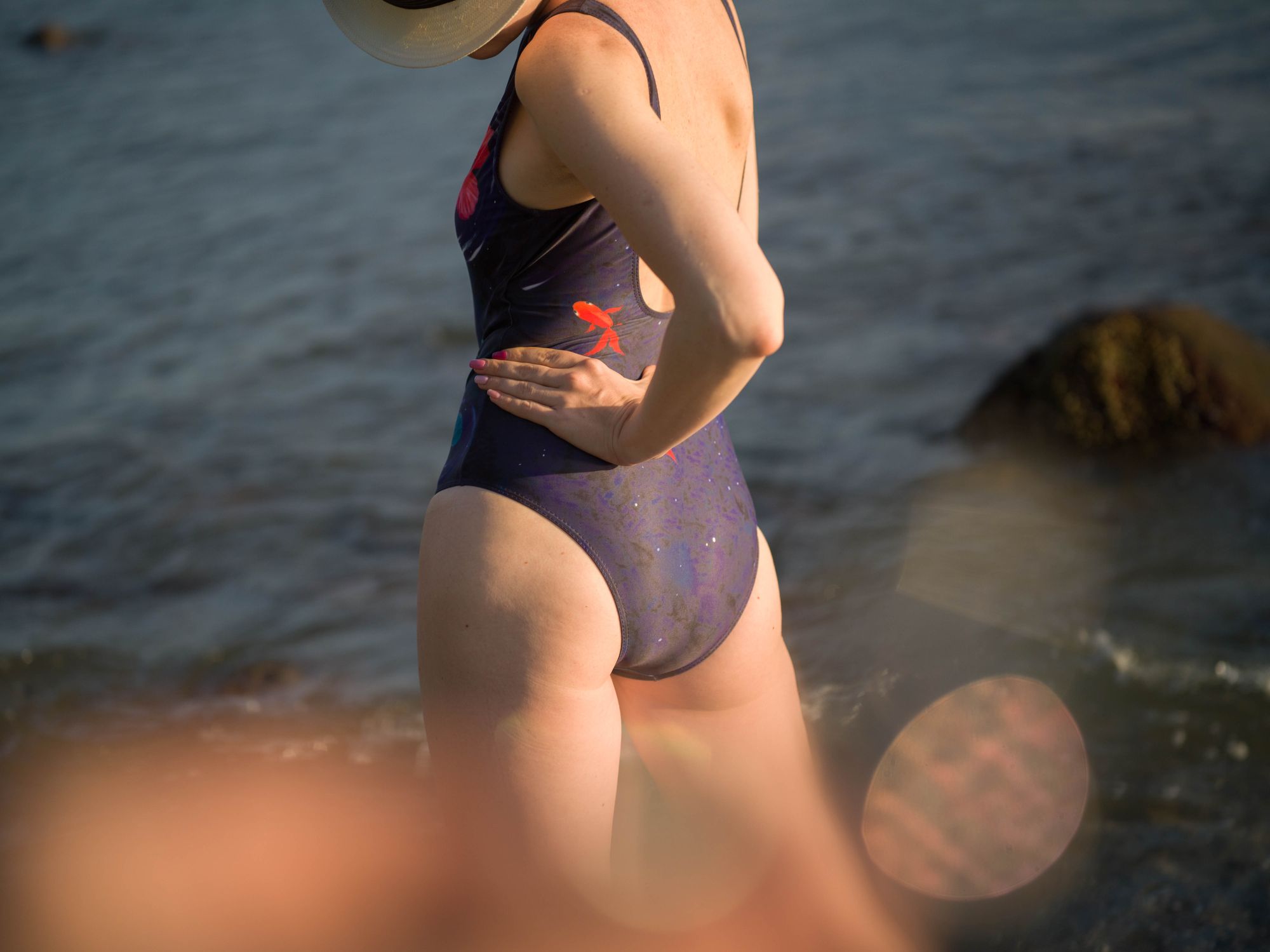 Overall impression
Bottom line, the swimsuit is so funny looking (in a good way) that it always brings my mood up and makes me think about starting to go to the pool just to justify purchase of a few more printed one-pieces. And it's nice to have a good quality and comfort on top of good looks.
Look, Touch, and Comfort speak for themselves.
Quality - quality of fabric, fit and seams.
Support - how quick and helpful the support team was.
Experience - the overall experience of communicating with the brand (how user-friendly the website is, how easy it was to order, how quick and seamless shipping was, if applicable - how painless the return procedures were.)
Devil in details: purchase review.
The swimsuit is made of one layer of all ways stretch fabric printed from the front side and white on its back. Fabric is pretty thick and not transparent (at least my dark coloured one isn't). Seams are neat enough. Printing is quite durable and I don't see fading even after significant use in strong sun and salty water (the website also promises it to withstand chlorine, I didn't wear it in the pool though so can't say anything about it).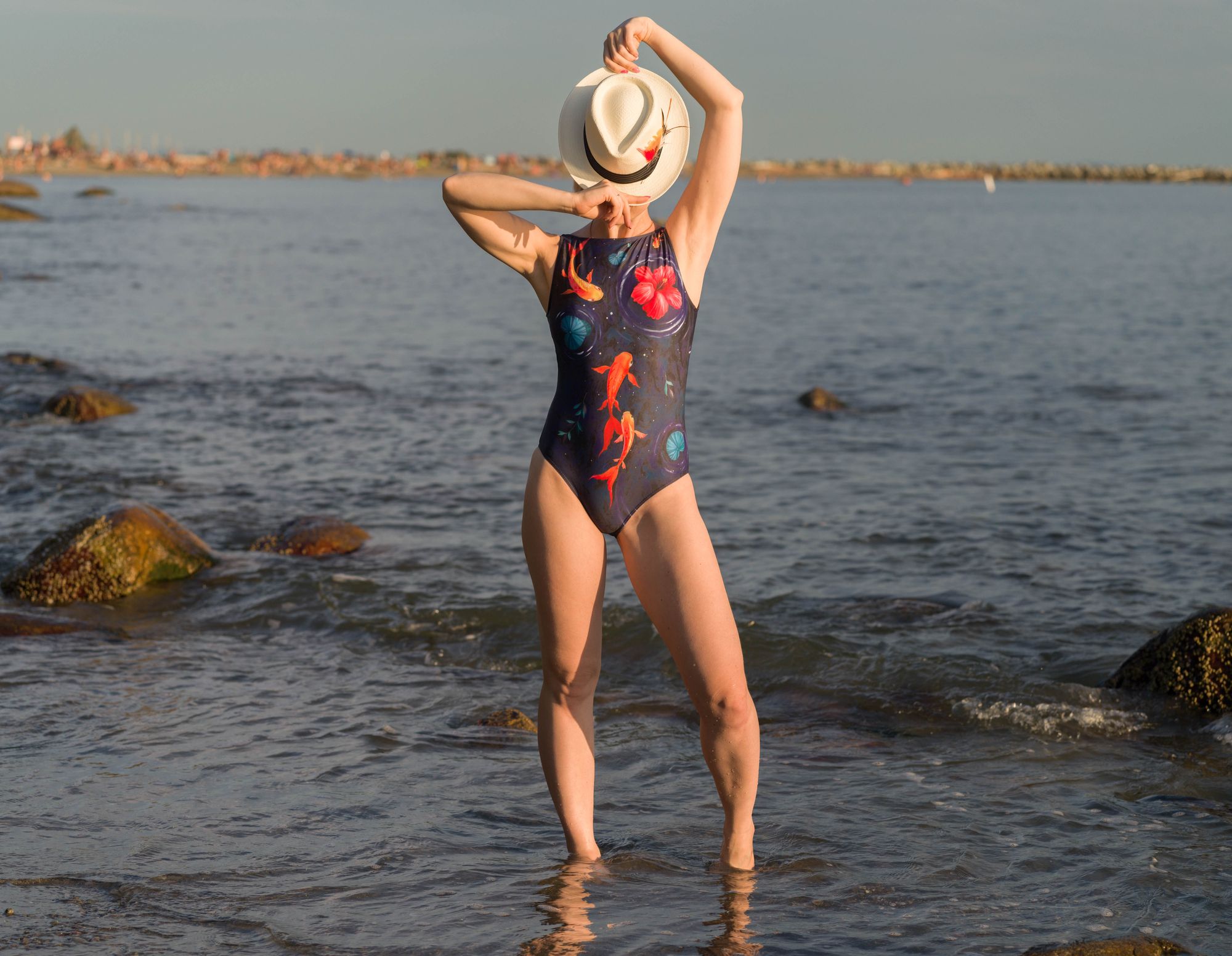 A structure looking like a front of a crop top with built-in soft cups is sewn into the upper, armhole and side seams on the inside. Lower edge of the structure is finished with a wide elastic and left loose. Gusset is sewn-in from its rear side and not a front one.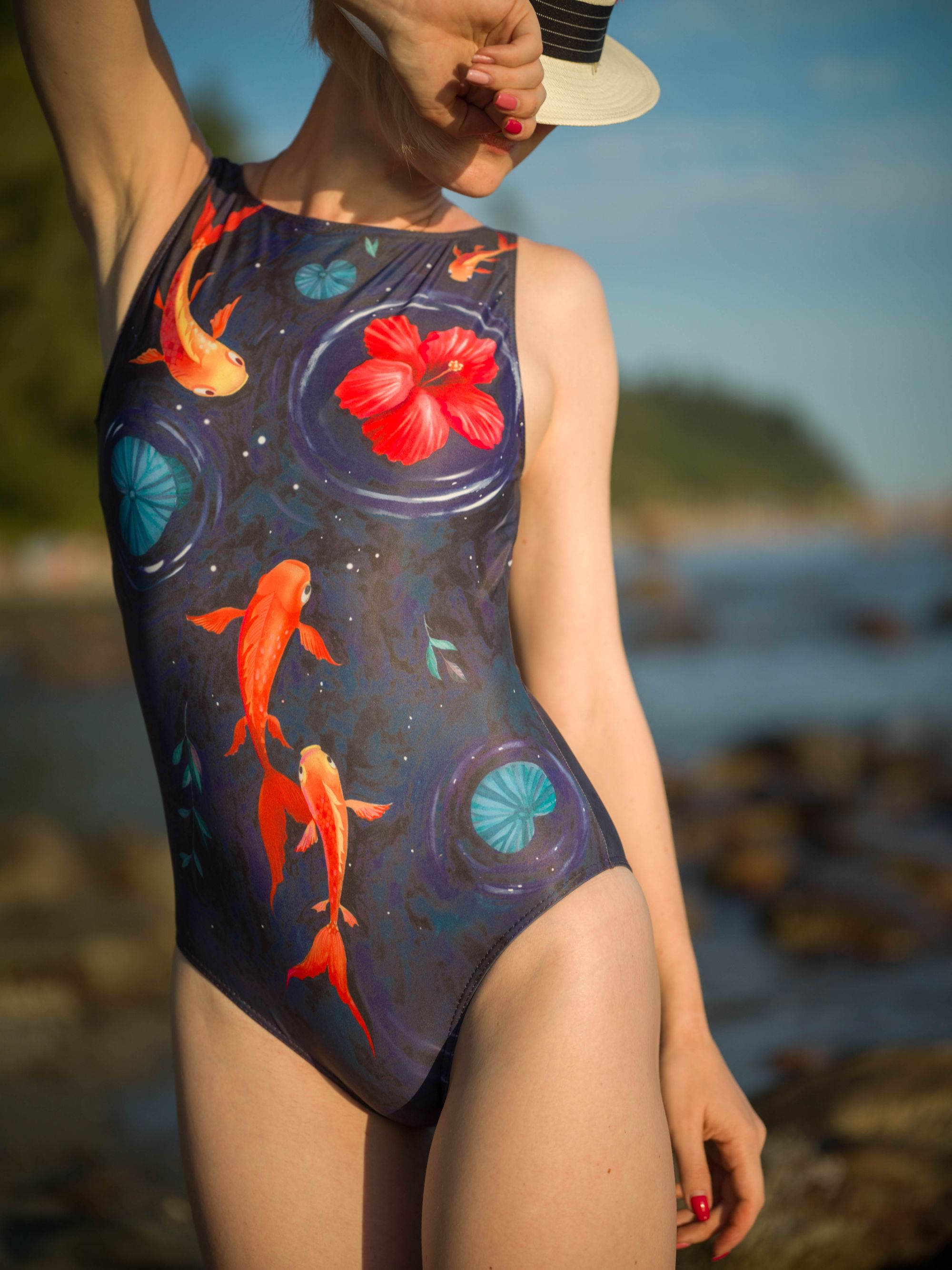 The only label is a tiny piece of soft enough fabric with a size indication attached from the inside with a separate thread so it can be removed easily (I didn't do it though as it's so itty-bitty that doesn't bother me at all).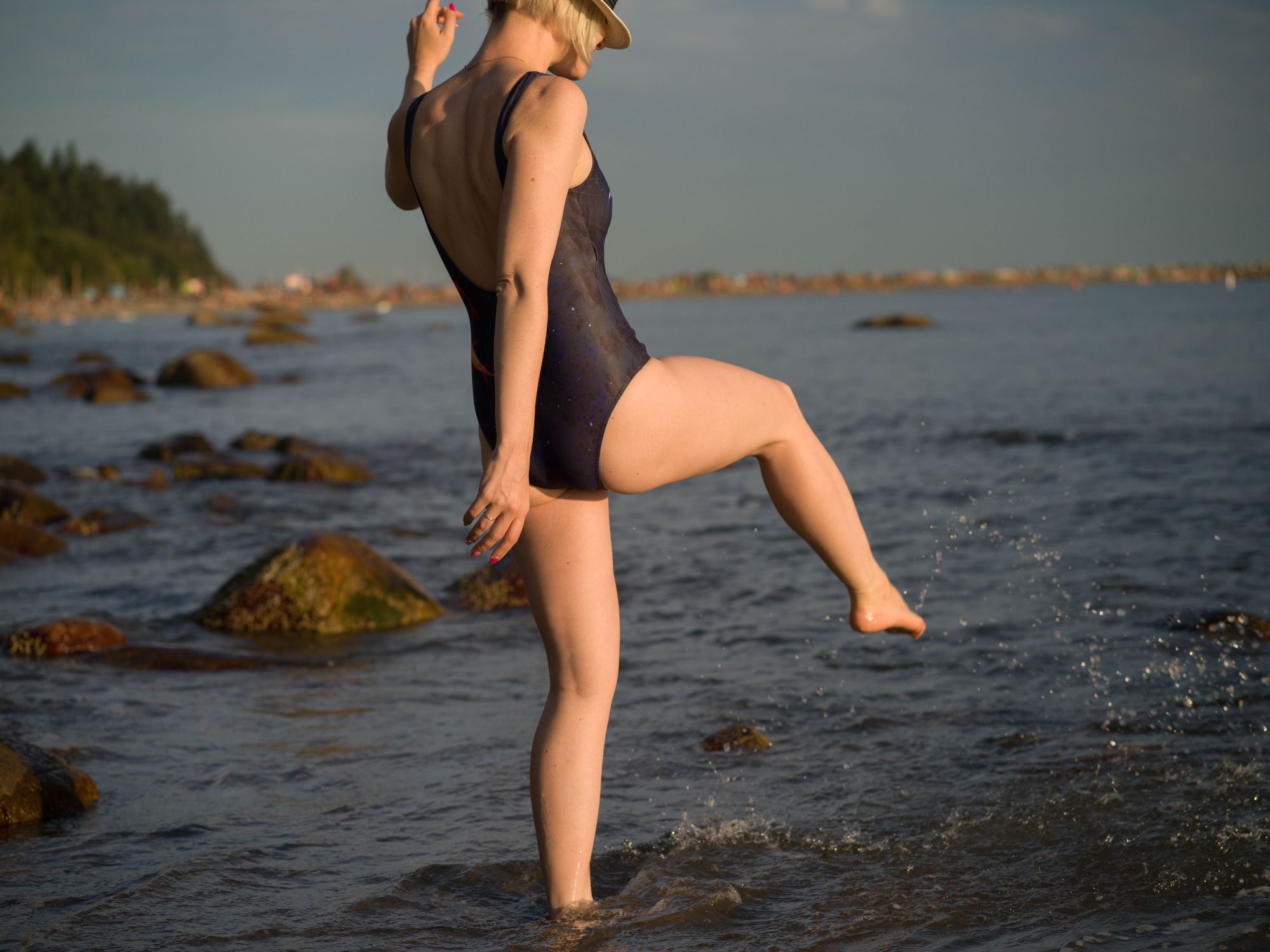 Order notes: fitting, customer support, shipping
My fitting with this swimsuit was quite mysterious. They didn't have a working website at the moment of my purchase so I just asked for help in a direct message to their Instagram account, for my measurements they sent me a piece in size M (44).
At the moment of purchase my measurements were: bust - 85 cm, hips - 95 cm, body length - 64 cm.
I was travelling at the moment so I decided that I might save on international shipping as well and ordered delivery to my friend's address in Russia and got it from her about a month later in New York. By that moment I lost some weight and was worried that the swimsuit might be big for me now.
My new measurements at the moment of receiving the package were: bust - 80 cm, hips - 88 cm, body length - 64 cm.
I was pretty surprised to see that size was good. Fabric is quite stretchy so it probably can accommodate a size up too but I'm not sure about the lower edges which might cut into the butt cheeks more than it's comfortable if I still were in my previous weight. I was surprised even more when I checked their sizing guide later. According to it, my original measurements translate to the size S (42), and my new ones are on the borderline between XS (40) and S (42). So now thinking about a new one-piece I'm a bit confused if I should go with a tested Medium or try to size down (the support team advises on the latter).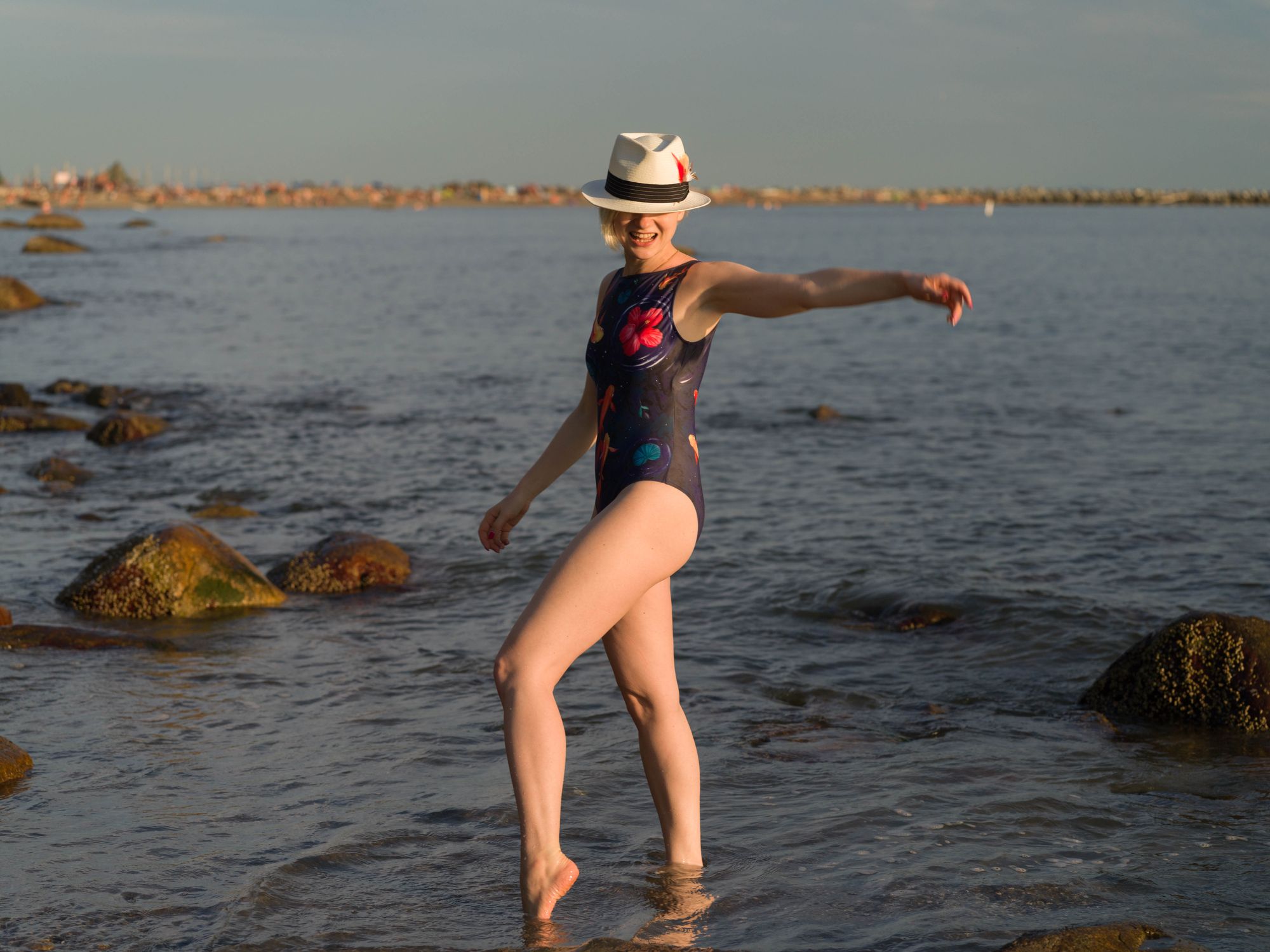 One more piece of advise. The website is in Russian so if you don't speak this language, better go to their Instagram page and ask for help in direct messages. Their support team is quite helpful with sizing and stock questions, they can provide a direct link for payment through website or PayPal details, and they ship worldwide.
Photo: Vlad Sofronov