I was torn between two options when choosing my bodysuit from Sonata London(link to it's page in my catalog). Diva and Elektra both were tempting but after all I opted for gold rather than for a combo of navy and magenta. Spoiler alert: for me it was a mistake.
The bodysuit is definitely beautiful and of a top-notch quality, and my only unfortunate issue is inaccurate colours on the website. It's all gorgeous gold with only trims and buttons in black there... and mostly black with golden pattern in real life (still gorgeous, but I was already in love with the gold all over). Looks like the photographer used a very strong strobe light which altered colour of the lace base significantly.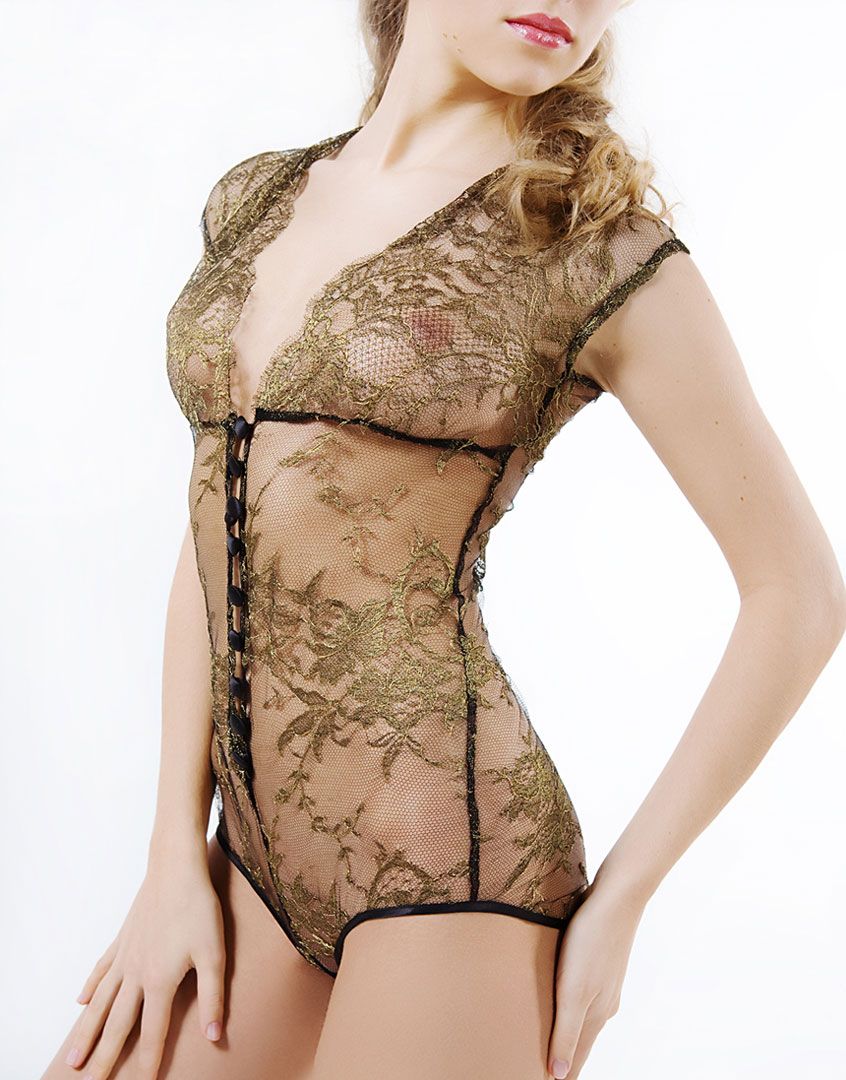 I'll be honest, this unexpected surprise spoiled the purchase for me which is only sadder as the quality is impeccable. I mean, it's a beautiful thing, made of premium quality materials with a great craft and attention to detail. They also made it by my measurements at no additional cost even though I bought it on sale with 50% discount, and it fits me with no a single tiny hiccup. All the experience of communicating with the brand team was absolutely perfect... right until I got my purchase. From what I see, I think that if I'd only go for the Elektra one, I'd be over the moon with my bodysuit (and I got a peek of it from Garterblog so now I know for sure that I wouldn't be disappointed with its colours). And if you like lace in combination of black and gold, definitely go for it.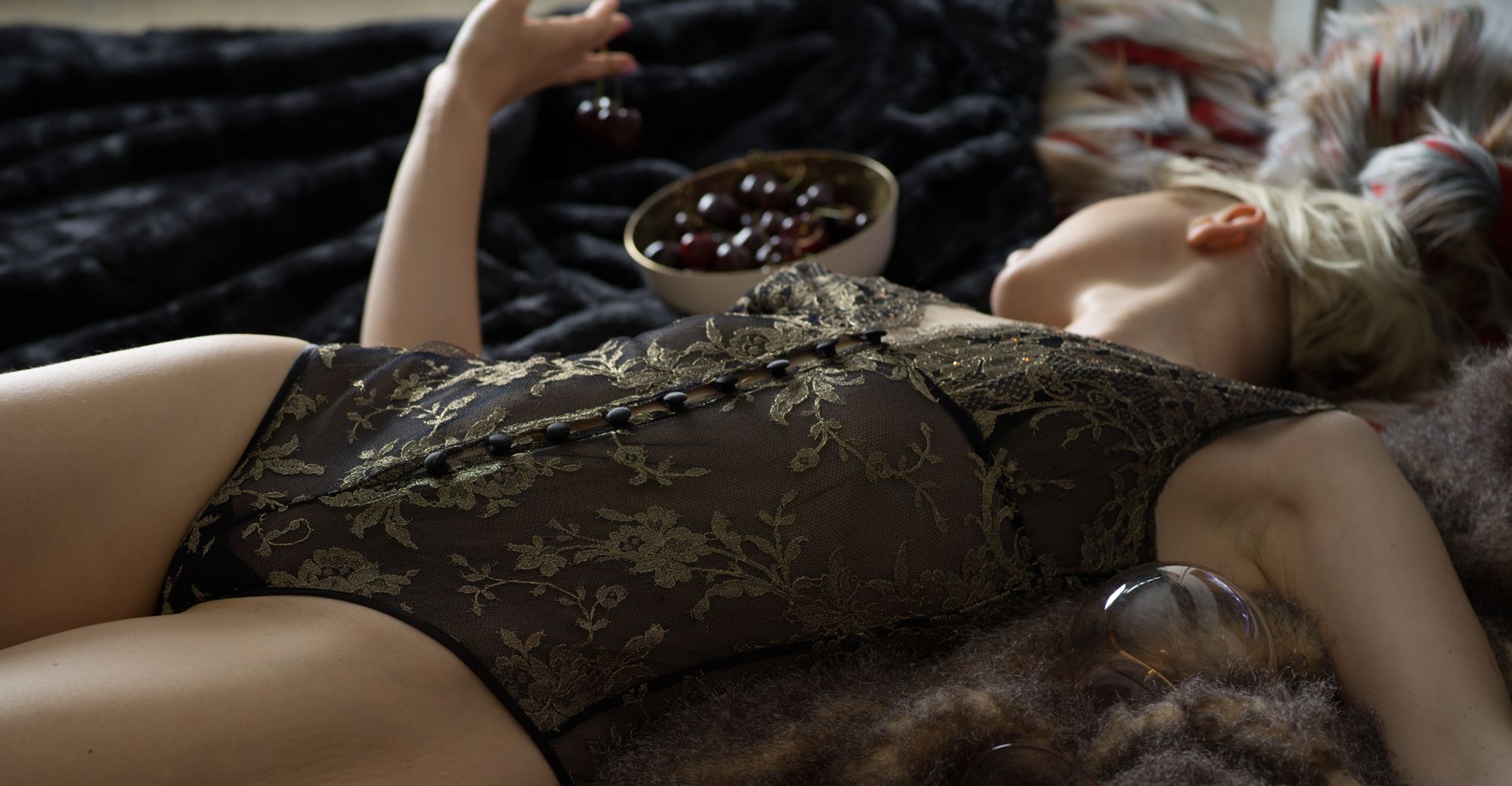 I didn't try to return it as it was tailored by my measurements, I also ordered shipping to the storage facility while I was travelling and I got it literally in a month after it was delivered, so no complaints here. After all, it's beautiful as it is, it's just not exactly my cup of tea. Actually my first thought was to order the Elektra bodysuit on the next sale (Sonata arranges 50% sales several times per year). I contacted the company team with feedback though to explain the situation and ask them to update the product images for the sake of future customers. I also let them know that I wasn't looking to return my purchase and that I was happy with its quality. They never answered which was unexpected as they were very nice in communication before, and I won't lie, it's a bit disheartening.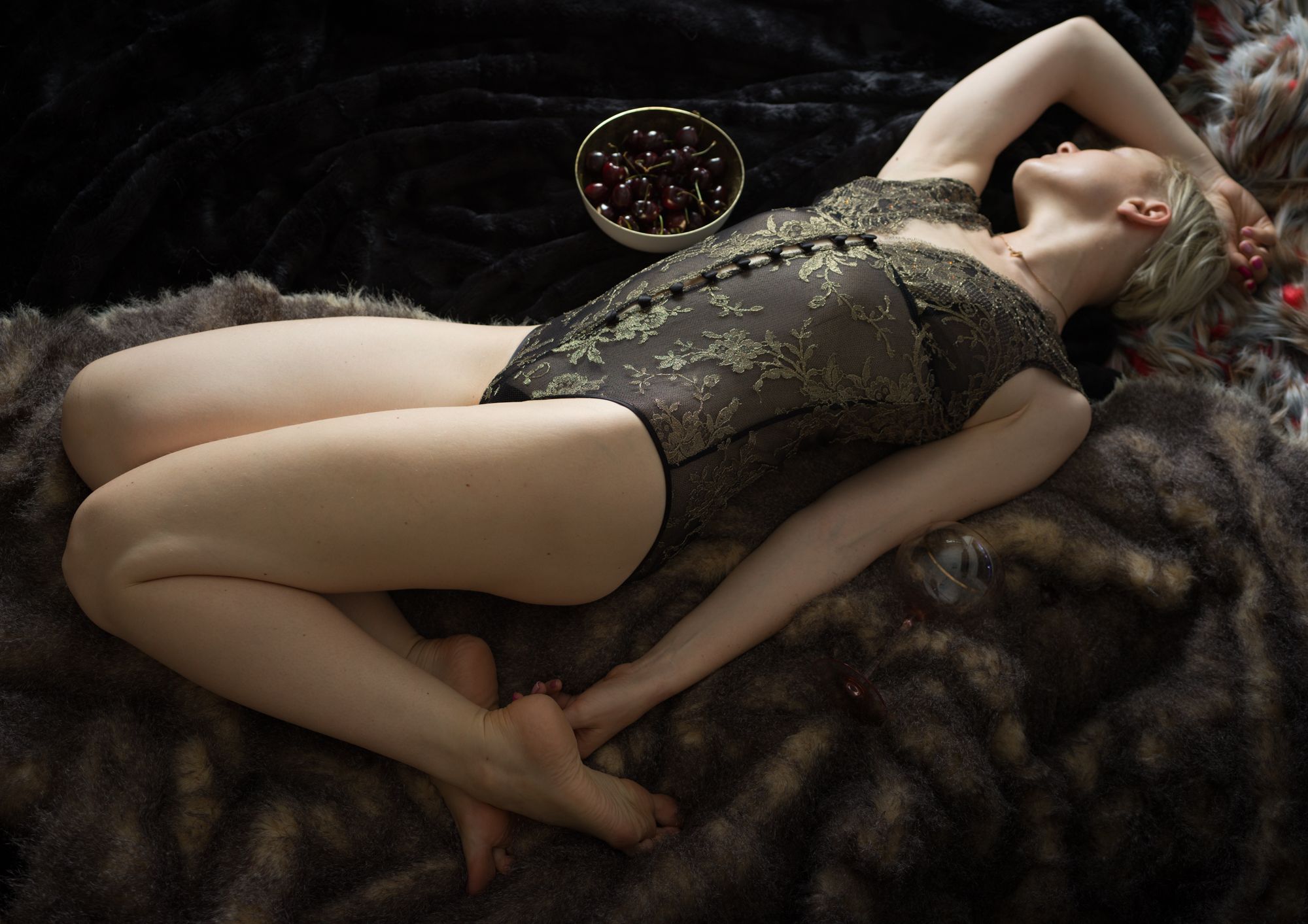 I ended up with mixed feelings right where I began when I was trying to choose between two styles... now I'm trying to figure out if I should order the second style which I still like a lot (especially now when I know for sure about their great quality and fit) even though I feel disappointed and confused with their silence in answer to my feedback (did I offend the team of artists? was it better to keep my feedback for myself? wasn't it right to let them know about opportunity to improve?).
Meanwhile, I have to note reluctantly that images of the Diva bodysuit are still with no updates, and there are no any warning in the description texts.
Overall impression
Here is my overall assessment of the style, you can find more details further. Short summary - beautiful thing of perfect quality with unfortunate presentation on the website.
Look, Touch, and Comfort speak for themselves.
Quality - quality of fabric, fit and seams.
Support - how quick and helpful the support team was.
Experience - the overall experience of communicating with the brand (how user-friendly the website is, how easy it was to order, how quick and seamless shipping was, if applicable - how painless the return procedures were.)
Devil in details: purchase review.
The bodysuit is made of elegant Solstiss lace which looks like black mesh with golden embroidery. It's padded with a finer black mesh and complemented with pure silk on its trims and buttons. Silk isn't stretchy but trims don't cut into the skin. The closure in the crotch area is fastened by three simple clasps and has a silk gore.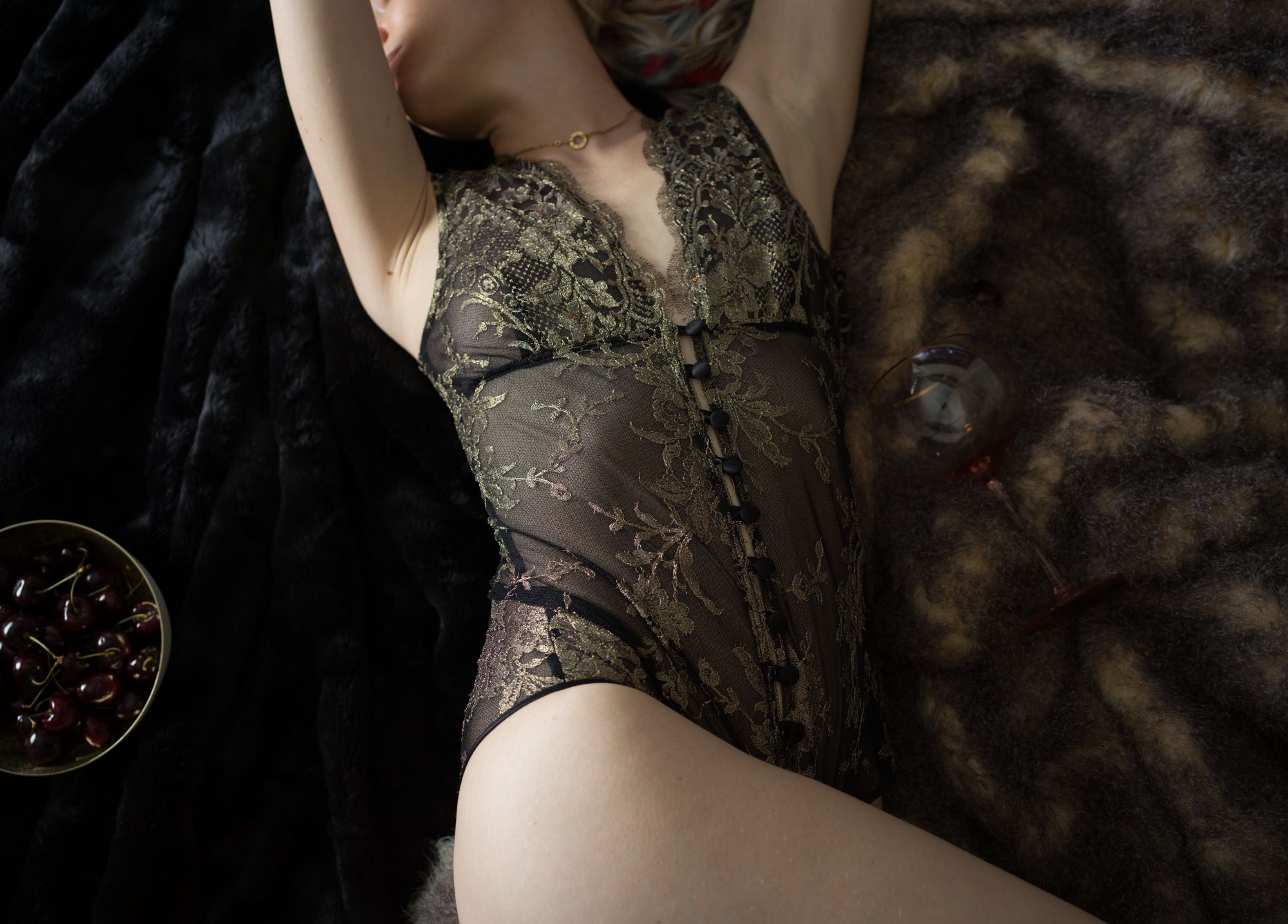 The neckline is decorated with tiny Swarovski rhinestones. They were a surprise for me as you can't see them on the website photos, but they are mentioned in the description so it was my fault to miss it. I'm not sure about their colour choice which is cognac and looks a bit too orange against gold lace to my taste but I'm probably too picky here as I'm not a fan of rhinestones in general. They are very subtle too so they mostly just create some sparkle in addition to the shining of the gold lace.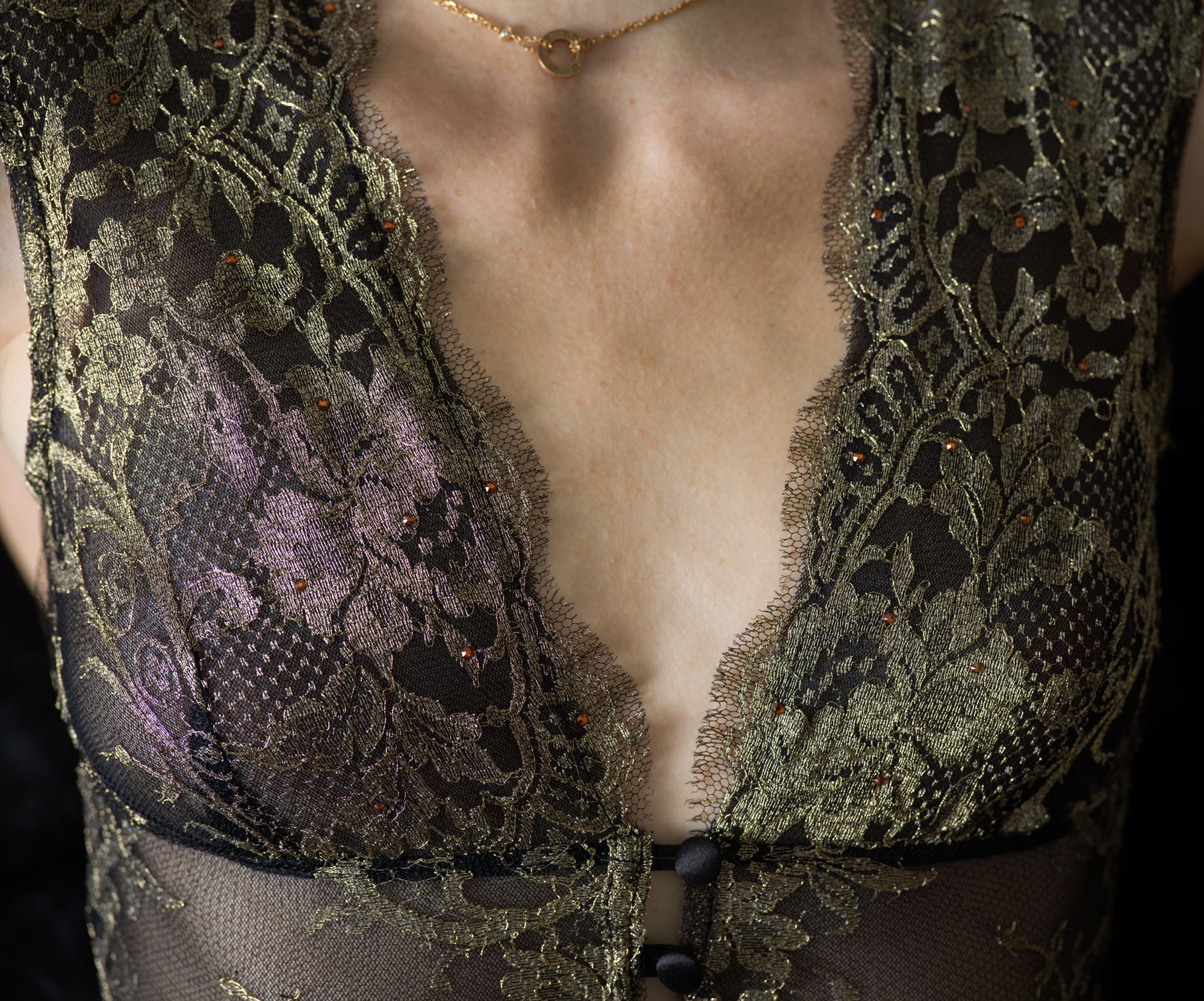 On the bright side, the bodysuit isn't transparent as it seems on the website so it solves my concerns on how to wear it. The fit, again, is superb (sure it is, they were kind enough to tailor it for me).  
Order notes: fitting, customer support, shipping
And some technical details in the end. Size guide of Sonata London didn't work for me but it's quite common with my measurements.
My bra measurement of 80 cm is slightly smaller than their XS (81 cm) and my waist of 67 cm is slightly more than their S (66 cm). So I was unsure between S and XS sizes.
I filled in the form on the website with a call for help but didn't get answer, same with my email to info@sonatalondon.com. I was in hurry as the sale was coming to its end so a couple days later I contacted them through direct message in Instagram. There were no any communication issues since, they were very nice to tailor the bodysuit for me, explained in detail how to take additional measurements (some of them are not so common), were super patient while I was travelling and didn't have time or a simple measure tape to provide them with information to start their work (yes, I was absolutely a terrible customer, it took me 3 months to take my measurements after they sent me all the instructions).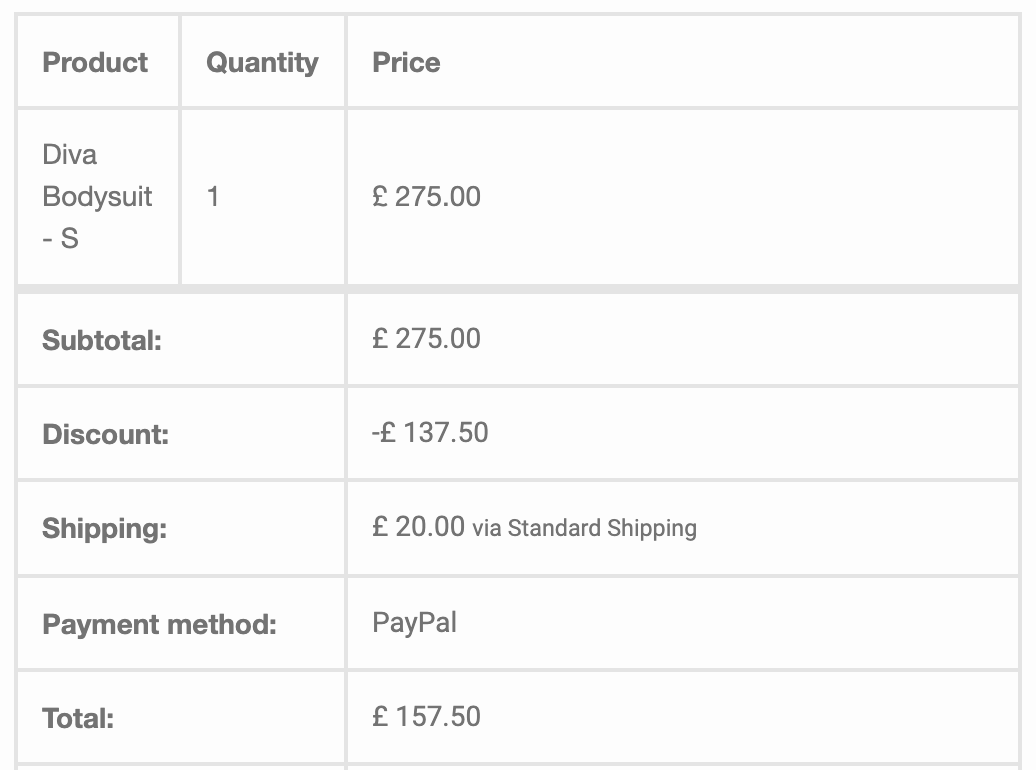 Standard shipping went with no tracking number, and due to my travels, I lost a track of when it was finally delivered so I can't advise on delivery time unfortunately. Anyway, there weren't any issues with shipping, and it came in reasonable time and in perfect condition.
Photo: Vlad Sofronov