Myla London from time to time does pretty generous sales. This January they went up to 70% in discounts and left me torn between three different styles: two silk ones and one gorgeous lacy. While I was trying to make a painful choice, all the discounted silk suddenly disappeared from the website altogether which gave me an efficient push to hurry up with my purchase.
I'm pretty picky when it comes to lace and don't like traditional floral patterns at all. This is why I didn't wear lace for most of my twenties when I couldn't find anything more interesting between lacy pieces (well, my budget then was much more modest, and I suspect that more intricate lace may be just more expensive than common patterned ones). Lace of Soho while being floral, doesn't look common at all. It's a very elegant large-scale design which instantly caught my attention and didn't disappoint in real life.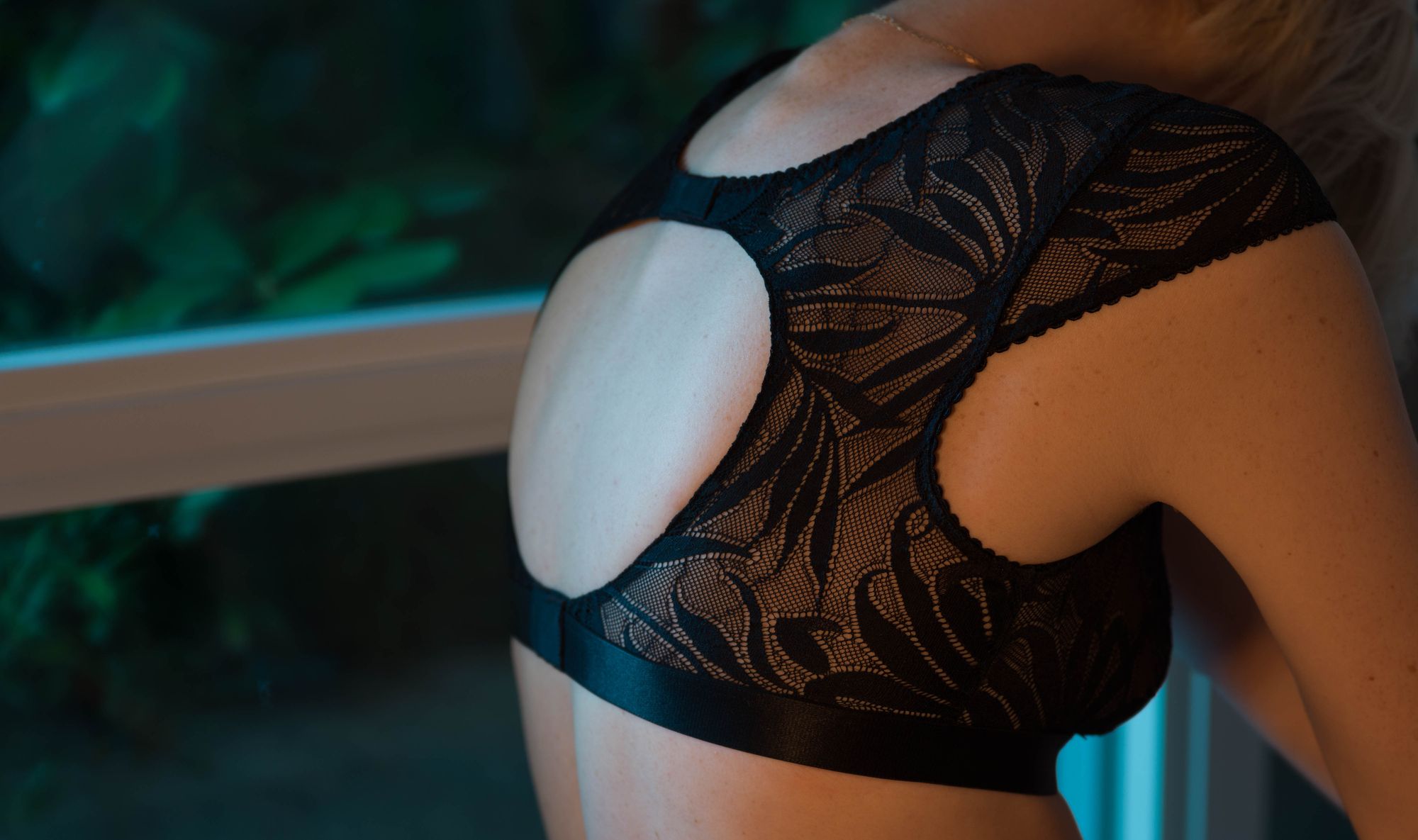 I have a thing for semi-transparent crop tops covering cleavage, they are easy to style and add a tint of sophistication to the outfit, drawing the eye to the neck and breast without looking frivolous. This one looks even more exquisite thanks to its graphic lace, and I feel myself an embodiment of a true British elegance wearing it. Well, to be precise, of British elegance how I imagine it from books and films. My two short trips to London were too chaotic, filled with talks with mostly male colleagues, and the only thing which I managed to notice about women's outfits is how short skirts and how revealing cleavages are in comparison to Canada... I kinda felt myself a scandalized debutante just arrived from a remote county to the lavish capital. Anyway, I don't feel like it in Soho lingerie.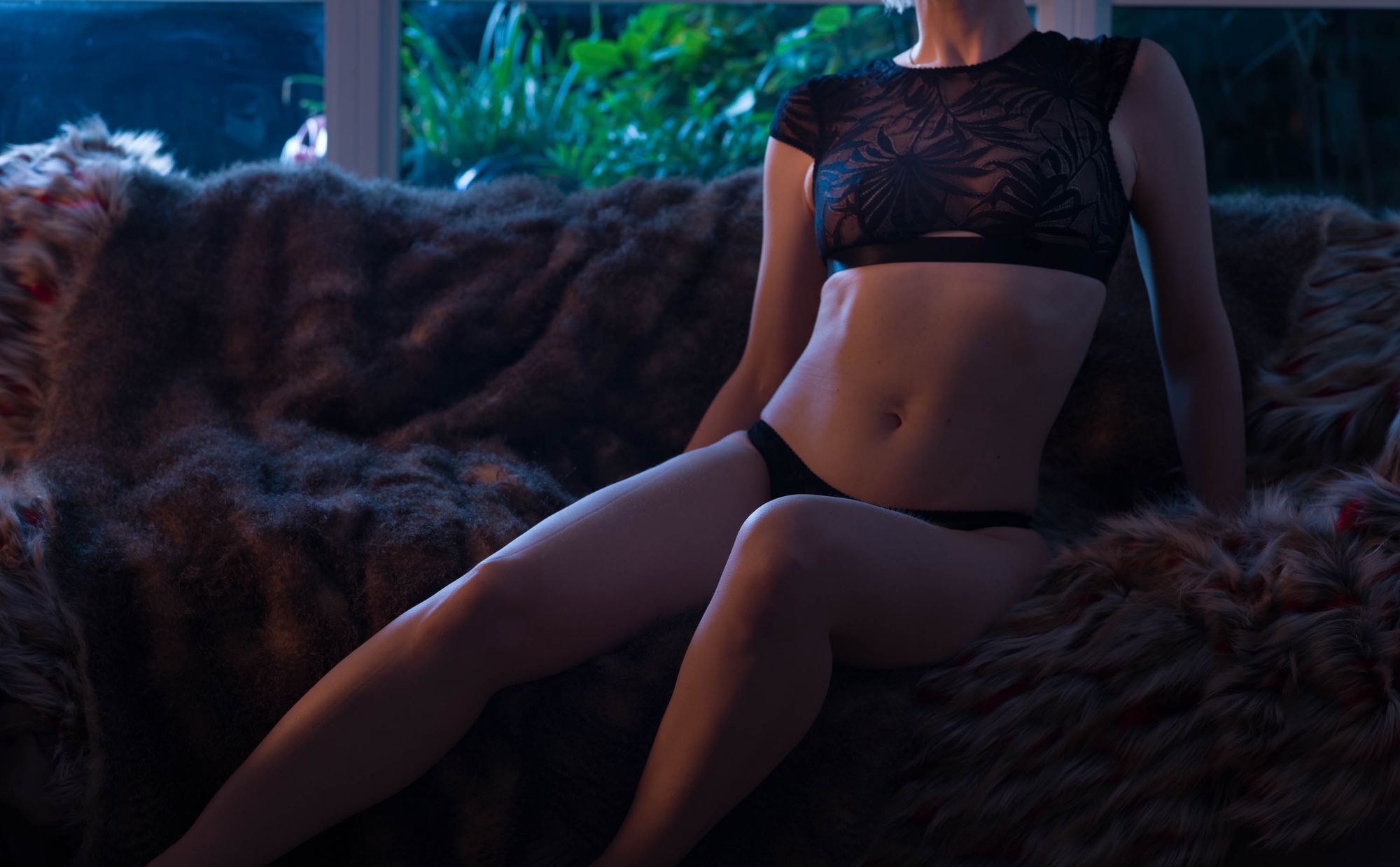 Comparing to Vegas Gold by E.L.F Zhou London this set looks probably less subtle (and less expensive if you know what I mean), calling for more attention but at the same time it proved to be much more comfy. For starters, I can put it on with no anybody's help. Fabric is much softer than Vegas' lining, it's stretchy and doesn't restrict my moves. Don't get me wrong, I wouldn't give up Vegas for Soho, they just give me totally different self-image.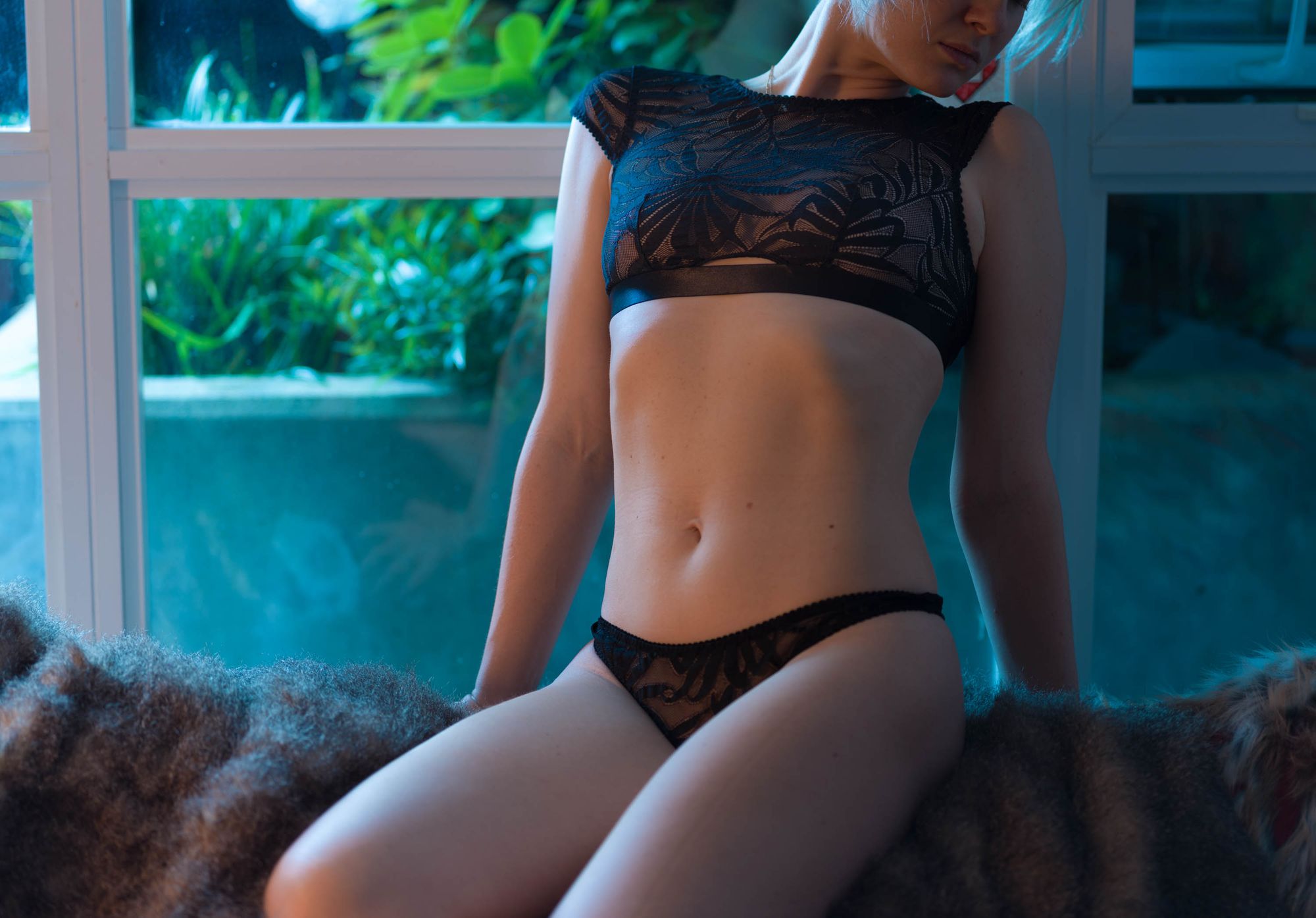 Overall impression
Bottomline is that it's beautiful stylish lingerie which works just fine even for everyday wearing. But skipping ahead, I wasn't happy at all with the purchasing experience.
Look, Touch, and Comfort speak for themselves.
Quality - quality of fabric, fit and seams.
Support - how quick and helpful the support team was.
Experience - the overall experience of communicating with the brand (how user-friendly the website is, how easy it was to order, how quick and seamless shipping was, if applicable - how painless the return procedures were.)
Devil in details: purchase review.
The set is made of Sophie Hallette heavy stretch lace finished with wide elastics. The top has two hook & eye closures on the back, both have three positions for adjustment. Stretchy material and adjustable closures make a very comfy fit. The lower elastic of the top sometimes can go a bit too much up making the fit less comfortable but it's rather rare (happened two or three times so far after being worn four times) and gets fixed by pulling it down easily.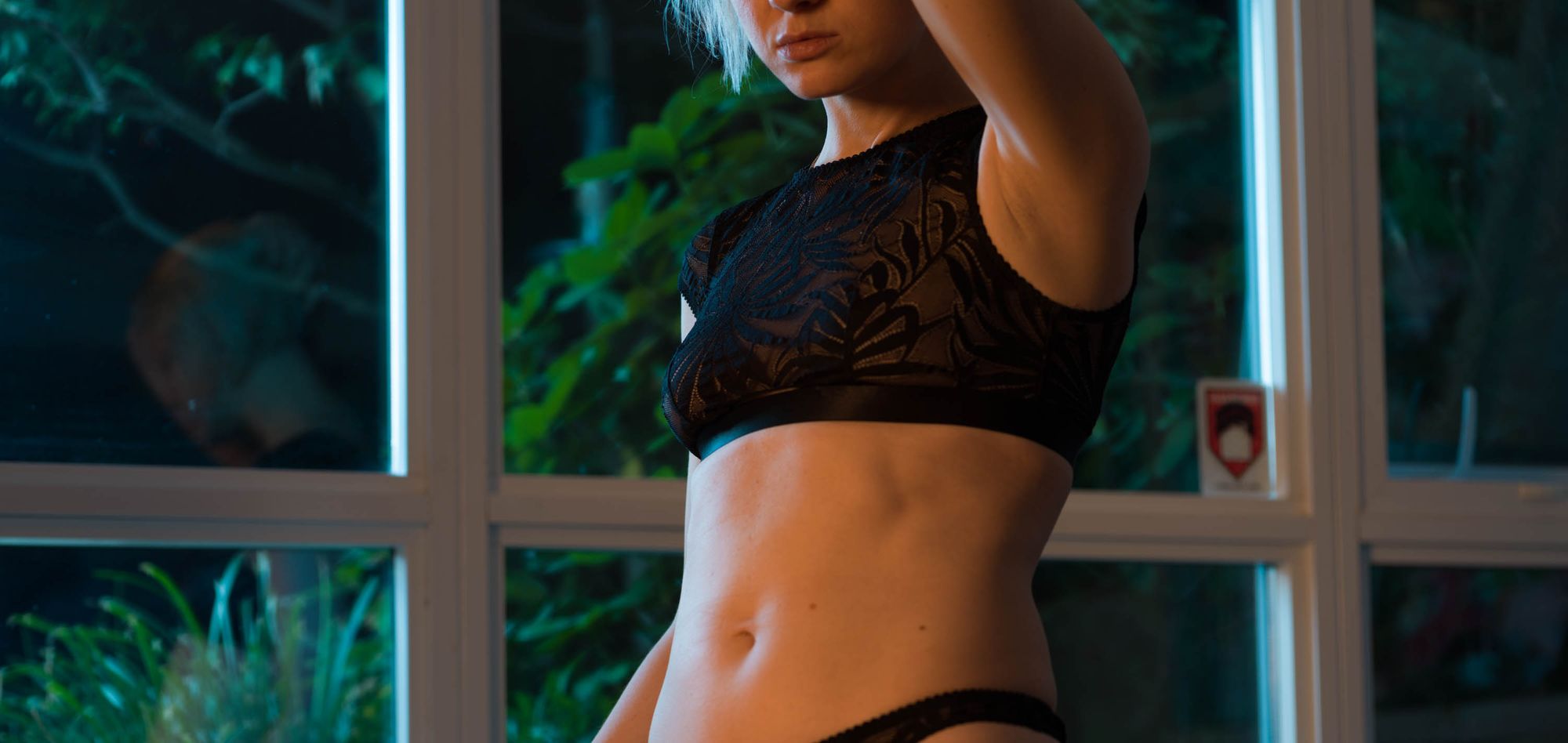 I ordered both brief and brazilian options for panties. Labels are sewn into the seams unfortunately. I left them first as I was worried that cut edges may rub the skin but during the photo shoot they bothered me terribly, especially the one on the crop top so right after the last shot I picked up my scissors and chopped them off as close to the fabric as I could. Trims are unraveling now pretty actively but at least they don't irritate my skin any more (and I figured that at some point they just unravel down to the root and stop).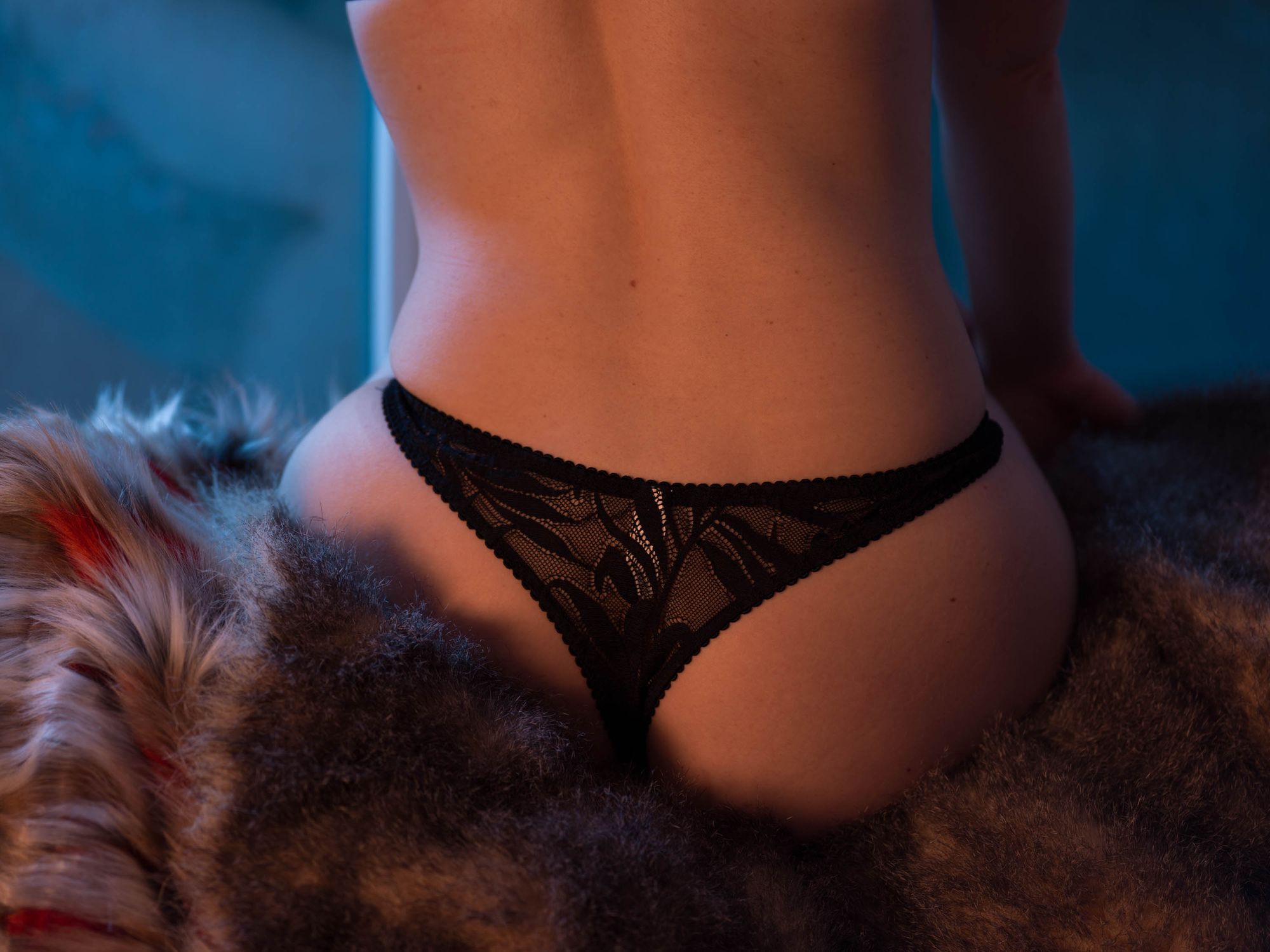 Order notes: fitting, customer support, shipping
Sizes at the Myla's website are shown individually for each style (hit the Size Guide button on the right from the fields of size and quantity choice) but I didn't find any differences between them except of headers. Guides start from XS but most of the styles available only in S and up.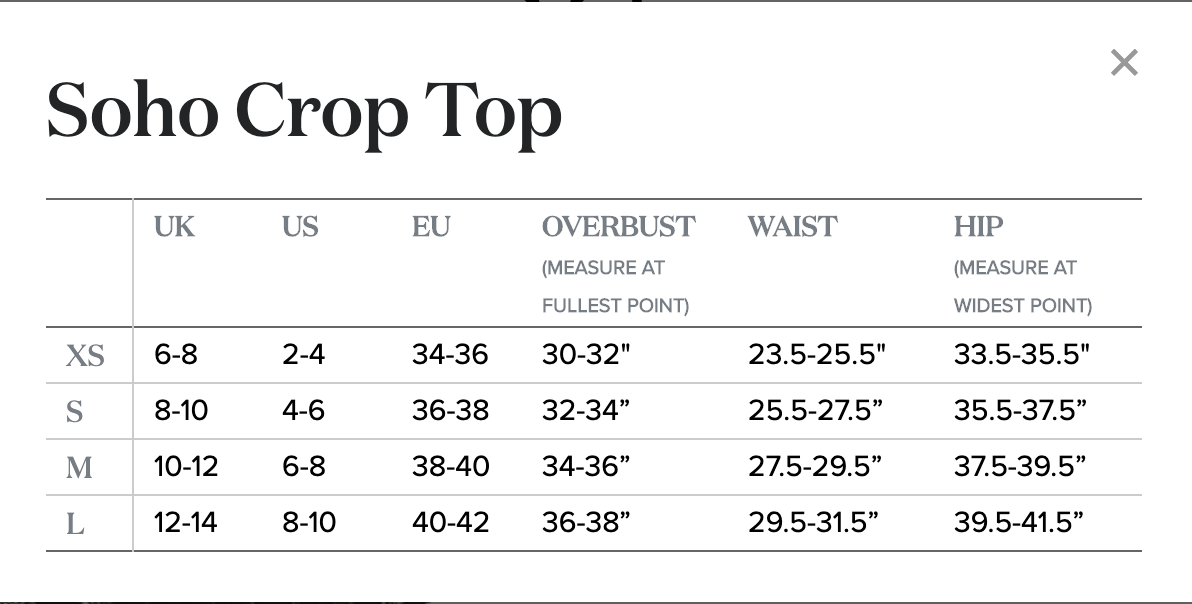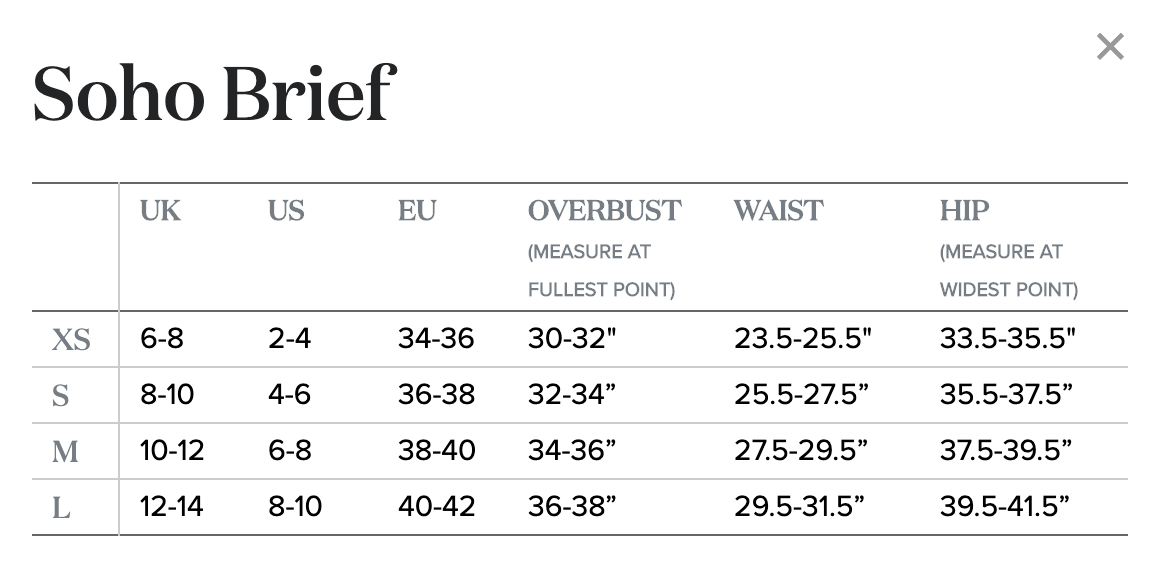 My measurements suggested that I may need XS so I contacted the support team through the form on the website and here the long story of bells and whistles comes.
My measurements at the moment of purchase:
Bust - 80 cm / 32"
Band - 73 cm / 29"
Waist - 67 cm / 26"
Hips - 88 cm / 35"
Height - 167 cm / 5'6"
About 12 hours later I've got an answer by email with a phone number of their London store and an advice to call there. I'm honestly not a big fan of talking by phone - I'm generally not super talkative, also not being native English speaker phone calls take extra effort, especially when you're in a different time zone (and the store obviously doesn't work nights). On top of it all I just didn't know what else I can tell them as I provided my measurements in the initial inquiry. So I asked them to provide me with an advice by email due to the time difference.
I got my answer 3 days later. It was a good detailed answer explaining that some styles might be better for me in S and some in XS. Unfortunately while I was waiting, two of the styles which I wanted were taken down from the website altogether.
I placed the order for the Soho set but my payment didn't come through and my bank confirmed that they had nothing to do with it. This time being worried to miss the last style left I called the support team, they promised to check what's going on. Quite soon I got a email answer that the issue was with their payment provider who marked my payment as high risk due to the country where it was initiated from (I was in Bali, Indonesia on my vacation at that moment). They promised to solve it ASAP.
On the second day of waiting and constant checking on Soho availability I came up with a workaround and paid through VPN to hide my location from the payment provider. I wrote to the support team, this email was never answered. I also left a note to hold on shipping until my return from vacation but instead of the answer I got a notice of the parcel being shipped. I called again, got a confirmation that shipment can't be stopped, and wrote them a very disappointed email about my overall experience which also was never answered.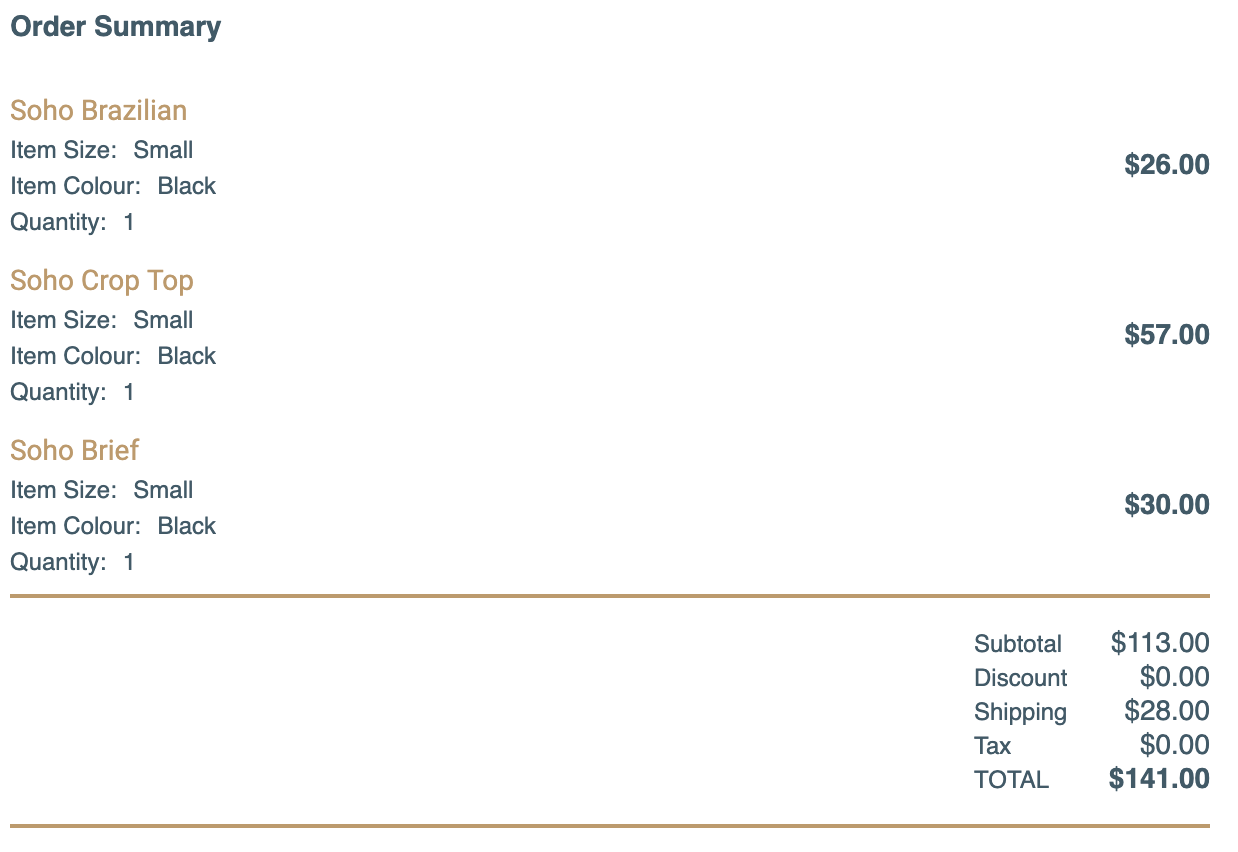 Anyway, the parcel was delivered the next day, and after some song and dance to make sure that it waits for my return I did get it, S fits me perfectly and I was so contented with my new lingerie that I even bought more Myla styles, this time through their stockist. But it's a story for another time.
Photo: Vlad Sofronov